Losar Village or Lossar is a beautiful, peaceful and a soothing village for a 1 day halt while going to Chandratal. Situated at a height of 13,400 feet, this place is known for its splendid landscapes with stunning mountains and waterfalls. Local population mainly constitute Tibetan descendants with a maximum population of around 300.
One can really hear the sound of quietness in Losar Village. The spot is so excellent and reviving that individuals from the whole way across the globe come here to unwind in the serene environment and inevitably overlook their life complications. The best time to visit Losar Village in Spiti is between the long stretches of July and September, when the streets are available to the overall population. The average distance among Losar and Kaza is just 55 km making it easy for commuters to pay their visit post spending a night in Kaza.
Occupation
The primary source of money for the locals is cultivating and animal husbandry however with the expansion in the quantity of voyagers with every year the travel industry is on the ascent. Potatoes and cauliflower are the two fundamental vegetables grown in the vicinity. The neighborhood language spoken here is for the most part Hindi. Local people are exceptionally modest towards the travelers. Losar is viewed as coldest spot in Spiti valley and a night stay is adequate to investigate the area. Located at the foothills of Kunzum pass; and coldest place in Spiti valley (temperature drops to -35 °C in winters), it acts as a stopover for travellers going to Kaza or Manali.
Losar mainly has 5-6 Hotels and Guest Houses; and can be accessed from Kunzum Pass from July to September. It can be accessed via Kaza any time of the year. Every tourist has to register near the Losar check post before crossing the village.
How to reach  Losar Village?
To reach Losar one can either go by means of the Kunzum Pass which is a high mountain pass. Kunzum is viewed as one of the most deceptive passes on the planet. One can likewise get to Losar village through Kinnaur. The Kunzum pass is closed for most of the year and can be witnessed only during the late springs of mid-July to mid-September. Kinnaur remains open throughout the year other than winters when the temperature drops to below zero.
Places of attraction
Chandratal Lake
Kunzum Pass
Kaza
Kibbar Village
Ki Monastery
Kunzum Pass or Kunzum La, is a high mountain pass (15,060 ft) on the eastern Kunzum Range of the Himalayas. It is approximately 122 km from Manali. It associates Lahul valley and Spiti valley of Himachal Pradesh . It is in transit to Kaza the subdivisional home office of Spiti. There is additionally a 15 km trek from Kunzum Pass to Chandratal, commonly known as Moon Lake . It comprises of fifteen (15) sharp clasp turns, testing driving abilities of even professional riders. The travelers on their way to Gramphu or Losar Village offer their prayers to Kunzum Mata before embracing this perilous excursion.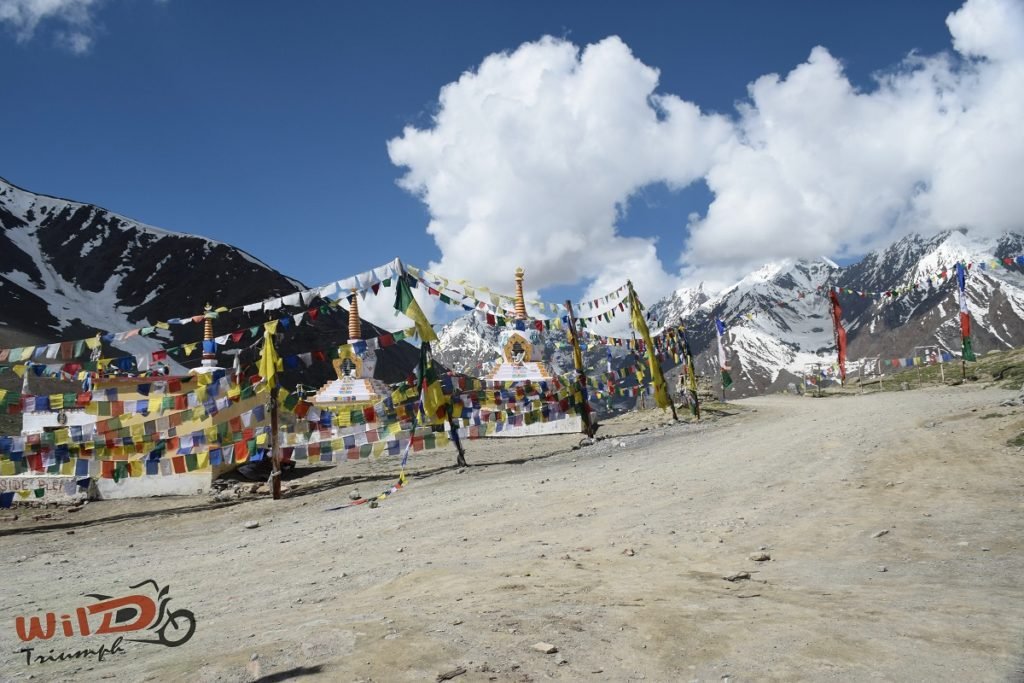 General Advice
Losar village is the last and furthermore most mainstream place where one discovers convenience in the valley, fundamentally because of its closeness to Chandratal Lake; it is a main halt point for the travelers of Kaza – Keylong and Kaza – Manali. Because the village is situated at a very high altitude, mountain sickness is an issue experienced oftentimes by travelers, and thus travelers are advised to prepare before hand for such crises.