Best Motorcycle Road Trips in India
A motorcycle road trip is a perfect amalgamation of excitement and adventure. It provides an ecstatic feeling filled with the joy of riding along with the cool winds that gush past your hair.
No distance feels too long on these tours. Even the newly discovered detours can lead to lost villages and undiscovered places no other mode of travel can offer. You easily gel with the crowd and get to know the local places.
In addition to adventure, Motorcycle tours is also about exploring new places and witnessing vivid cultures. In India, you can experience this while riding along the valleys, plateaus, deserts, and woods. You understand the rich legacy of the cultural heritage as well as appreciate the panoramic beauty alongside.
Besides, not all the routes are monotonous. Few destinations include a paved route, whereas the others will be rocky that require your riding skills, all in all making it a thrilling experience.
Road trip in India is filled with challenges that require your endurance and a little optimism towards any unforeseen situations. If this is something you are passionate about or want to try for the first time, keep reading further.
In this article we have enlisted the best Motorcycle road trip destinations in India for all types of riding skills. Let's take a look.
| Destination | Riding Distance | Recommended Route | Duration | Riding Difficulty |
| --- | --- | --- | --- | --- |
| Ladakh | 2955 Kilometers | New Delhi - Panchkula - Narkanda - Kalpa - Tabo - Kaza - Jispa - Sarchu - Leh - Nubra - Pangong Tso - Leh - Jispa - Manali - Chandigarh - Delhi | 19 Days | High |
| Rajasthan | 1175 Kilometers | New Delhi - Mandwa - Bikaner - Jaisalmer - Jodhpur - Udaipur - Pushkar - Jaipur - Agra - Delhi | 12 Days | Easy |
| Goa | 1150 Kilometers | Goa Airport - Panaji - Dandeli - Badami - Hampi - Jog Falls - Palolem - Panjim - Goa Airport | 11 Days | Easy |
| Kerala | 1255 Kilometers | Kochi - Kumily - Munnar - Kodaikanal - Palakkad - Ooty - Thrissur - Vypin Island - Kochi | 12 Days | Moderate |
| Himachal Pradesh | 855 Kilometers | Manali - Tirthan - Sangla - Tabo - Kaza - Chandra Tal - Jispa - Rohtang La - Manali | 09 Days | High |
| Varanasi | 1950 Kilometers | New Delhi - Agra - Lucknow - Varanasi - Prayagraj - Kanpur - Mathura - Delhi | 16 Days | Easy |
| Uttarakhand | 1300 Kilometers | New Delhi - Ramnagar - Bhowali - Sitla - Binsar - Dunagiri - Pauri - Kanatal - Mussoorie - Haridwar - Delhi | 15 Days | Moderate |
| Golden Triangle | 790 kilometers | New Delhi - Agra - Jaipur - New Delhi | 08 Days | Easy |
A motorcycle ride to the ancient Buddhist kingdom, Ladakh is considered most famous. It is among the first-place that comes in mind while planning a motorcycle road trip due to its inaccessibility and scarce populace. The valleys and views in this cold desert are worth every effort. The ride on the gravels and off road tracks provides a very rugged riding adventure.
Ladakh, the land of high passes, is always accompanied with Leh, its capital. Located in the most northern state of Jammu and Kashmir high in the Himalayan mountain ranges, Ladakh is at an altitude of 9000-25000ft above sea level. You get to cover major spots like Nubra Valley, Three Lakes of Ladakh, and Buddhist Temples or Monasteries. Riding towards Ladakh on a motorcycle gives you a sense of calmness and tranquility as you feel on top of the world riding at an immense height. This place is a visual gift for your eyes as it is loaded with monasteries, fluttering colorful prayer flags, vast plains, high mountains, swift winds, snow clad regions, rivers and streams, blue lakes, villages, and the modesty of the locals. The entire bike trip will boast about the passes and steep curves that are adventurous and astonishing. You also get a chance to undertake activities like white water rafting, mountaineering, and trekking.
Mid-June is a good time to arrive here as the snow has melted making it easy to ride. But it could get cold. So, it is essential to carry jackets and thermal wear. In a nutshell, riding on a motorcycle to Ladakh will allow you to visit the land where the earth meets the sky, a ride you will never experience anywhere else. It is an ideal destination for any motorcycle enthusiast looking to hone his riding skills and experience the adrenaline pumping through the veins. If it is not included in your motorcycle touring bucket list, make sure to include it now! Read more about Ladakh road trip here.
The most visited state in India welcomes bike riders all through the year. Rajasthan literally means 'land of kings'. Riding on a motorcycle to Rajasthan allows you to explore the Thar Desert and Aravalli mountain ranges. This motorcycle tour takes you through the state of Rajasthan as you pass through tiny villages and indulge in the local cuisine. You also witness the gigantic Forts and astounding Palaces of the Kings along the way.
Be it jungle safari through Ranthambore Tiger reserve or the rich legacy of Jaipur and  the golden city of Jaisalmer, there are plenty of experiences for riders to take back home. When it comes to the stupendous Thar Desert; there are many amazing sightseeing activities that you can indulge yourself. The beauty of the palaces, forts, and the arid desert regions leaves the rider mesmerized and spell bound.
Every city in this vibrant state has its own character and color to showcase. Moreover, you get to see and learn about the history and rich culture of the Nawabs and Rajputs, the main descendants who make up the population of this sandy yet enriched in culture state who have left a legacy. Many activities like camel and elephant rides in the sand dunes are famous along with puppet shows and fairs/festivals. You can also get to witness village folk performing their arts and talents.
Known as the royal desert state, it gives you a different sort of excitement to ride on these rustic roads alongside bullock and camel carts which are the main modes of transport here. Since it is a dry and hot place, the ideal months to arrive here are November to February as the cold is yet bearable here. You can read more about Rajasthan Tour here.
Travel along the narrow and pristine routes in this exotic destination that rejuvenates and alleviates your mind and body. The mystifying views of the Western Ghats, beguiling ocean and the zesty curves along the way will give you a thrilling experience.
Filled with steep roads that pass through the villages and towns, Goa is colorfully lined with a blend of cultures and a Portuguese legacy. You can stop at the beautiful Portuguese churches and forts to marvel at. Panjim, Hampi, Badami are some famous places to stop at along the way. 
Although the Northern and Southern parts of Goa are equally filled with beaches and tourist destinations, however the latter is more favorable spot for riders.
The coastal route from Panaji to Palolem has never-ending forest woods and mountain ranges that stretch for miles and miles and appear to approach towards you once you begin your journey. On some occasions you may even require a ferry ride to reach the other end of the shore. As you reach South Goa, the beaches and lined coconut trees will be ready to greet you. 
Every itinerary should include the ever-famous Portuguese fort, Cabo de Rama, located on a cliff surrounded completely by wilderness. This is a good spot to look out onto the coast and immerse yourself in the beauty of it all. Let yourself loose in the gentle breeze as you watch the sunset on the Konkan coast. October to February is the best time to visit Goa on a motorbike.
The best way to travel through God's own country is on a motorcycle. Why? Because there is no better way to get close to nature and experience the culture here. This evergreen state lies between the Arabian Sea and Western Ghats in Southwestern India. Kerala has everything you need for an amazing getaway. The weather is good for ten months of the year; it is the land of the backwaters, Ayurveda, Chinese fishing nets, beautiful beaches and even the waterfalls. You can find coconuts, bananas, and spices including black pepper and cardamom growing here. It is also the home to elephants and tigers in the wild but more importantly the people are absolutely amazing. Starting from Cochin, you will be riding along the Arabian coastline towards the hilly regions filled with lush greenery. You can visit some of the celebrated destinations like Munnar, Thekkady, Kovalam as you ride through this heavenly place filled with culture, history and character. On your way you cross the rich tea and coffee plantations along with the backwaters and beaches enriching your bike expedition. There are plenty of hill stations that you will visit with each passing mile. You will also cross churches, temples, palaces, national parks, beaches, and wildlife sanctuaries on your way. You can also watch cultural Kathakali show whilst you are there.
A typical day in Kerala starts with a joyous ride through the evergreen plantations while it is ended on a relaxing note as you watch the sun settling in the backwaters. Kerala is the best option for riders looking for an intimate affair with nature! Given the choice, you can choose your accommodation between a hotel and a houseboat, the latter giving you a true sense of your presence in Kerala. Summers of March, April and May are the best seasons to indulge in a motorcycle road trip through this tropical region. Read more about South India Motorcycle Tours here.
A mountainous state in the Himalayas, Himachal Pradesh is truly a paradise on earth with snow-capped mountain peaks, lakes, thick vegetation, streams, meadows, valleys, and never-ending landscapes. It is the most beautiful winter destination of India. Taking a bike trip through such natural beauty allows you to explore the colorful villages, mystic sceneries, and stunning mountain ranges. Added to this are the strong religious sentiments of the locals attached with the Himalayas that make this place holy and extraordinary. It is in this Indian state that you will meet the world's highest mountain ranges. Unlike other destinations, Himachal Pradesh gives riders the opportunity to ride on extreme zigzag roads and curves.
You can visit sites like Shimla, Kullu, Manali, Dharamshala, Dalhousie and more. You also get an opportunity to indulge in activities like paragliding, snowboarding, zorbing, and skiing. With this motorcycle trip, you can easily get the taste of the unique diversity found in the culture and landscapes of this serene Himalayan region. The Tibetan monasteries and Hindu temples have a century old traditional touch to them. Although riders can visit Himachal Pradesh any part of the year, but the best time to visit these foothills of Himalayas is from March to November. With each state having its own sense of cultural and natural diversity, there is a lot in store to explore. Read more about Himachal Pradesh Motorcycle Tour here.
Cultural Motorcycle Road Trips in India
No one should contemplate visiting India and leave without seeing Varanasi. It is quite possibly one of the most sacred places on earth. Pilgrims make their way here for the holy waters of the river Ganges to wash away their sins or to pay homage to Buddha. Varanasi is often buzzing with people but it still evokes a soulful feeling to learn more about the rituals that take place here.
Sail along the river Ganges, the sights, sounds, and smells are intense but you'll find out more about the traditions woven into the flowing waters. Somnath is another important site for pilgrimage in Varanasi. It is said that after achieving enlightenment from Bodhgaya, Lord Buddha made his way here to spread his message. Somnath is where he famously gave his first sermon and it is studded with various Buddhist pilgrimage sites.
The evenings in Varanasi are devoted to an ancient custom known as 'Ganga Aarti' which has been practiced for thousands of years along the banks of the river Ganges. The uplifting ceremony is performed daily in honor of the river goddess Ganga. As the Sun descends, musical instruments burst into melody and thousands of Diyas (lamps) are lit. It is one of many evocative experiences in India and quite possibly the perfect way to end your journey in this incredible country. A journey you will cherish for many years to come for the adventure of a lifetime and an unforgettable trip to India.
The land of gods, a paradise on earth, a temple of faith, nature's eternal home. Yes this is the sword of India, it's called Uttarakhand. Home to the Himalayas where the innate faith of the people emerges most cloyingly. Beauty is diffused here sometimes in the form of rivers and sometimes in the smiling greenery of the mountain. No matter what country you come from or what religion you believe in, your innate purity, your feelings, and your natural goodness will start sparking once you put your foot on the soil of this wonderful land. You will be astounded by the views and the divine elements of this place. The towns bustle with the beauty of Ganges which will fill you with the feeling of newness by their magic which you will surely carry with you from here as an unforgettable experience.
These enormous mountains have been standing silently for centuries. On seeing these sky kissing mountains, it gives the feeling that someone has entrusted them with the duty of being the watchmen of the beauty of the earth.
Golden Triangle : A Highly Coveted Motorcycle Road Trip
One way of the best way to get a taste of the country's hysteria and diversity is by exploring the Golden Triangle. It's a well-traveled route that connects India's Capital Territory of Delhi, majestic Agra and the magnificent city of Jaipur. Visitors should allow at least eight days to properly cherish the magic of this route. Often begins among the bustling streets of Delhi, visitors head to explore the Magnificent Taj Mahal in Agra before heading over to the pink city of Jaipur.
Arrive in Delhi and take the day to wander around a city filled with Mughal era buildings. Riders often pass through India's capital on their way to the iconic Taj Mahal in Agra. But Delhi has much to offer travelers. On the one hand you have centuries-old Indo-Islamic architecture and on the other remnants of colonial occupation.
All of this fuses with high futuristic skyscrapers and shopping malls amid the heady mix of street comprised of warring rickshaws and mouth-watering food.
Delhi is the epitome Indian city. You can start your tour by visiting the Jama Masjid, a domed haven amid old Delhi's chaos. This red sandstone treasure was built by Mughal Emperor Shah Jahan. Next make your way through the maze of hawkers to the iconic Chandni Chowk. Here you can pick up some delicious food. A plate of 'spicy chaat' is a must here. There are many different varieties of quintessential street side snack but most delicious of all are the snacks made of potatoes and chickpeas tossed with tart chutneys, fresh yogurt and crunchy toppings.
You cannot leave the city without exploring the Red Fort; the primary residence of the Mughal dynasty or without visiting the eternal flame that burns alongside Mahatma Gandhi's memorial.
Stay overnight in Delhi to watch the sun set and prepare for your onwards journey to Agra.
Our most beloved monument the Taj Mahal is one of the most famous architecture not only in India but the world. Built by Shah Jahan as a memorial to his wife, this pristine white marble mausoleum is a wonder to behold. It took no less than 22 years to build and is an everlasting symbol of Shah Jahan's undying love for Mumtaz.
Every year crowds flock to the Taj Mahal in a bid to admire and marvel at a site that has inspired poets and writers for hundreds of years. Rabindranath Tagore described it as a teardrop on the cheek of eternity. Magically the Taj Mahal changes colors through the day, in the morning pink hues grace its facades and at night the gleaming moonlight turns it gold.
The Mughal Empire also built many other majestic sites like the Taj Agra fort and Fatehpur Sikri. These are certainly not to be missed on this route.
Post your Agra visit, travel onwards to Jaipur; the Gateway of the Rajasthan state. Rajasthan is India's crown jewel from splendid palaces and mighty fortresses to vivacious festivals this region harbors. Excellent examples of India's opulence, traditions, and color; Jaipur is the capital of Rajasthan. It was founded by the royal family that once ruled the region. Its endearingly nicknamed the pink city after the trademark color of various buildings that were constructed with pink sandstone. The streets are packed with buses some of them adorned with art and flowers, rickshaws, street vendors, and local delights.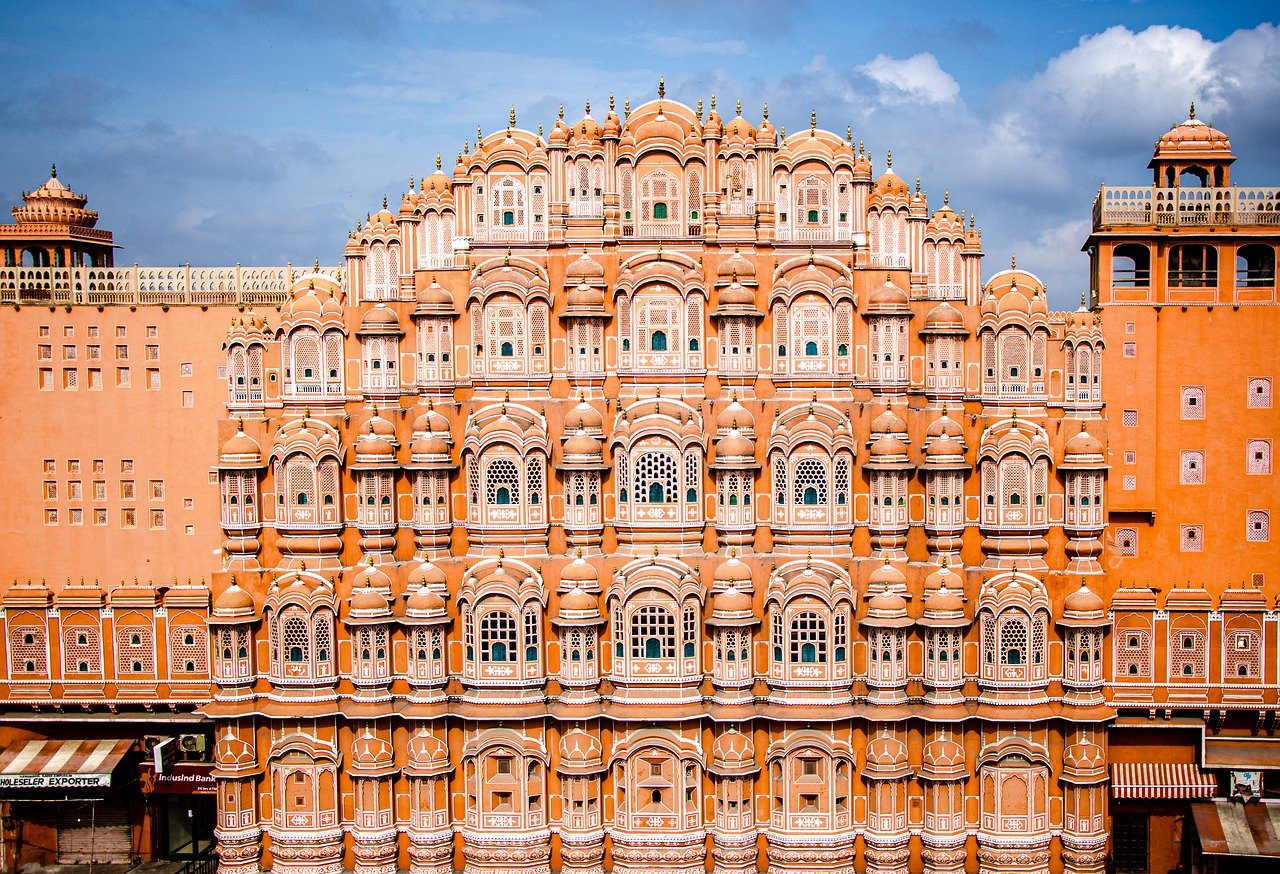 In all this commotion you will experience the Indian adventure you've been dreaming of. At the center of Jaipur lies City Palace. While parts of it are still a royal residence you can visit the gardens courtyards and museums. If you want to set your sights even higher, the Jantar Mantar royal astronomical observatory is the way to go. It features 'Samraat Yantra', the world's largest sundial. Visitors should also see the intricate Hawa Mahal, a five-story palace that overlooks the bazaar. This seamlessly leads to an afternoon dedicated to the market lanes of Jaipur filled with textiles gems and carpets. A visit to the bazaars is not to be missed. They are famous for selling quality handicrafts and jewelry, the perfect place to pick up your own little royal memento of Jaipur.
Although we have mentioned that a motorcycle tour is all perfect and exciting, let us also honestly make you aware that there are certain risks when you go touring on a bike. If you are riding for the first time, you need to be more cautious. At times, the weather can turn awry or you can be a victim to any natural calamity. It is important to plan your motorcycle road trip wisely with thorough planning.
While creating a road trip itinerary, ensure that every detail has been planned meticulously. Routes should be chosen in a way that blends with your overall riding experience. Besides, they should not be too tiring and monotonous.
To get the best out of your road trip, make sure there are no repetitions in historical sites and places. Also ensure that the route you choose is filled with scenic beauty along with an apt riding condition.
When it comes to riding time, the recommended travel distance varies from 200kms-650kms per day. But that depends on the tour and the destination. At times, you might have to take the ferry (to cross rivers) or may indulge in activities that will take up your riding time. Never tax yourself with too much of riding on a single day.
Riding in a group is generally more economical as you can share the costs with your fellow riders in like expenses incurred in accommodation, food, drinks, etc. Always customize and design your own route plan depending upon your time availability and riding skills. Do not forget to include basic necessities like clothes, medicines, identification proof, and gears in your checklist.
A motorcycle can take you on physical, mental, and spiritual journey that will last with you for a lifetime. The best part about going on a motorcycle tour is that you have the advantage of taking a break as and when required. This allows you to take a walk and snap the panoramic sights around you. You get an up-close view of the landscapes thus allowing this journey you are undertaking to be completely unique and memorable. Such motorcycle rides are meant for those who want to live in the moment. So, set out on an unforgettable motorcycle trip today as you sense freedom while you explore the culture and heritage of Incredible India!
It is true when they say that a motorcycle tour is the best way to explore India. After having selected the tour, the next question that arises is, 'which is the best motorcycle to go on tour?'
The answer to that is – Royal Enfield. This is the perfect classic motorbike to set out on your journey. There is no need of purchasing one. We give you a wide choice of 650cc, 500cc , 411cc and 350cc models to choose from. By hoping onto a Royal Enfield, your riding journey is filled with a mixture of a retro style combined with pleasurable riding.
Our bikes are equipped with accessories like crash-bars and saddlebags. Not everyone can be a part of something as adventurous as this. It is exactly why such motorcycle tours take a completely different path in comparison to other tourist modes of exploration.
It does not matter if you have never ridden a Royal Enfield before. If you have a permanent driving license and are familiar to ride any kind of bike, we are here to help you. We shall help you adapt to the new bike and surroundings along with the guidance required to ride in different environments.
Advice:
It is compulsory to wear a helmet throughout your motorcycle road trip. Riding without a helmet in India is illegal and punishable offence under Motor Vehicle Act.
Most of the remote villages and mountainous areas do not have any viable mobile network or internet connection. You will get access to it only in towns, cities and nearby places.
While planning a motorcycle trip in India, climatic condition is the most important factor to keep in mind. Weather in India can play truant. So, the best months would be the season between September and April. Around this time, the climate is quite dry making it easier to ride.
The main reasons why you should choose from our fleet of motorbikes is they are specially designed to keep you safe, comfortable with soft and relaxing seats, proper positioned handlebars, utility and storage for swift maneuverability.
We ensure safety and take care of every aspect of your trip. In case of bad weather or unforeseen situations, an alternate route is taken as per the tour head's instructions. This is not only for safety reasons but also for enjoying the landscape that passes by.
There will be an English-speaking guide along with a mechanic accompanying you on all tours. They are thoroughly aware about the road rules and itineraries. There will also be a support vehicle traveling along that will carry your luggage and spare parts if any mechanical issues arise. Our expert tour staff is always available to cater to any of your needs.