How to choose the right motorcycle gloves
Indeed, while riding a motorcycle, you are exposed to many dangers, not only because of the speed at which you ride and the hurdles that you may encounter, but also due to the inadequate safety gear which fails to protect you in the event of a fall.
Just like riding pants and protective jackets, motorcycle gloves ensure the safety of a motorcyclist on the road in the event of an accident. However, shortlisting an ideal motorcycle glove is not that simple. This is especially true when it comes to a novice rider, where you are presented with endless options in a retail store, without first acknowledging your comfort level and your riding style.
To add to this, not only are they available in a wide range of styles, they also differ in material, safety features, and size. Further, things like waterproof capabilities, breathability, resistance to abrasion, and the intended use (dirt biking, cruising, track racing, etc.) also add to the piled-up confusion.
In today's blog, we are going to discuss everything you need to know while shortlisting a motorcycle glove and what factors you need to consider before making a decision.
Importance of motorcycle gloves
The main purpose of gloves, whether on a dirt bike, race bike, cruiser, or a standard motorcycle in the city or on a multi-day trip, is to keep your hands safe and protected.
Hands are the most vulnerable parts of the body and should be covered with a real protective glove, and not just fancy ones.
The first impulse when you fall, even at low speed, is to place your hands in front of you to avoid the face hitting the hard surface of the road. However, asphalt, tarmac, etc. are extremely rough and abrasive, which is good for the tires for a firm grip, but this surface quickly increases the temperature of anything that comes in contact with it in the event of a sliding impact due to friction.
So, if you are riding without proper motorcycle gloves and crashed at a speed of 20 km/h, the heat released due to friction will burn and melt the skin leading to a first-degree burn.
Similarly, a crash that occurred at 30 km/h will burn the second layer of the epidermis also commonly called as second-degree burns. These burns are deep and might take a minimum of four to five weeks to heal.
And lastly, the most common and dangerous crashes of all that occur beyond 50km/h result in third degree burns. These types of burns take at least two months for the skin to regenerate, and sometimes require grafting.
No matter how carefully you ride without gloves, a gentle slip even at low or medium speed can really damage your hands. Not only will the skin be damaged, but the bones will also be exposed: knuckle bones on the back of the hand, the palm of the hand, the edges of the hand, and your fingers, all are at risk.
Should you fall at high speed, the impact with the ground alone will be enough to cause fractures. If in addition you hit something during the slide, or if you hit an obstacle that is necessarily harder than your body, you will sustain a series of fractures involving the wrist, the base of the palm, and your fingers.
Thus, it is important to wear proper motorcycle gloves with adequate protection every time you plan on riding your motorcycle.
Types of motorcycle gloves
These days, motorcycle gloves are available in a variety of styles and features to complement the unique needs of individual motorcycle riders. A particular pair may not be suitable for every form of motorcycling and so it's worth reviewing the different types of gloves before choosing one.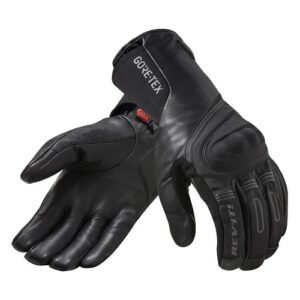 A winter glove combines several layers of insulation, with varying properties and thicknesses depending on the area of the hand, underneath the outer material so as to limit thermal losses as much as possible.
An additional waterproof membrane ensures that they can effectively withstand a rain storm. However, all these features makes the winter glove one of the least agile of its kind due to its thick and heavy construction, hampering an optimal feeling of the controls.
Read more: Best Winter Motorcycle Gloves
Extremely cold temperatures can make any ride an unpleasant experience, especially for your hands. Compared to conventional winter gloves, heated motorcycle gloves make riding enjoyable even in the coldest of seasons.
These gloves are designed to keep your hands warm and dry, and can be connected to the motorcycle's electrical system or can be operated from a battery pack making them a stand-alone device. The best models among these are thermoregulated ones that are capable of regulating the level of heat according to the external conditions and thus keep the temperature inside the glove at an optimal level.
Read more: Best Heated Motorcycle Gloves
Lightweight summer gloves are the ultimate answer to hot weather riding. They are designed to be as airy as possible, without compromising on safety!
This is achieved by using a non-insulated layer and a ventilated fabric on the areas that are least vulnerable to abrasion. This facilitates efficient breathability throughout the glove's entire length. However, the only downside is that your hands will get wet as soon as it rains.
Read more: Best Summer Motorcycle Gloves
Falling in between winter and summer gloves, mid-season motorcycle gloves retain the waterproof membrane, but scale down the insulation to a minimum. This ensures adequate comfort during the early morning chill, while retaining the breathability of the gloves for the afternoon.
These versatile gloves are best used in spring and fall. In addition, they offer a more responsive feel of the controls, as well as superior handling and comfort.
Read more: Best Mid-Season Motorcycle Gloves
As urban riding is often slower due to traffic and frequent stop lights, style often takes precedence over protection. Shorter cut, elegant leather, with little or no reinforcements, urban motorcycle gloves are designed to create a style statement.
These gloves are often light in weight, intended for short trips, yet they do not skimp on the quality of the material and finish. And they come in a wide variety of designs to suit every rider.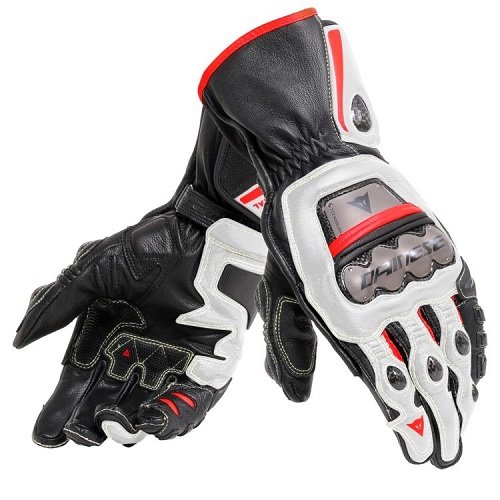 In the case of racing gloves, the emphasis is strictly on performance than styling. Thus, the major challenge for manufacturers is to achieve the best possible balance between flexibility and protection. After all, these motorcycle gloves are intended to act as a second skin for the rider, while simultaneously offering a high level of protection, as on-track falls are not rare.
These gloves are therefore the most advanced in the industry, with a wide range of rigid shells, padding and other sophisticated features designed to protect the hands of motorcyclists in the best possible way.
Read more: Best Racing Gloves
Now, touring gloves have a big responsibility, so they must be able to protect you from extreme climates, rain, wind and any kind of impact from accident. These are usually made from a combination of textile, leather, and perforated fabrics by incorporating several advanced technologies to ensure complete comfort as well as protection. Owing to this engineering, these gloves are not cheap.
Read more: Best Touring Gloves
You can recognize these gloves from the very first glance, especially when it comes to design and layout of the gloves. They are extremely light and thin and are made for quick and effortless wearing.
Engineered to be used during hard core dirt biking, their breathing properties are a major plus to their characteristics. They are flexible, agile, thin and allow an easy operation of levers and other controls on the handle bar.
Read more: Best Motocross Gloves
One way to determine the size of your glove is to measure the circumference of your palm. Simply bend your hand slightly without clenching your fist and measure with a measuring tape without including your thumb (as shown in the image).
It is recommended to do this on your "stronger" hand. For instance, measure the right hand if you are right-handed, as it will often be a little wider than the other. Alternatively, you can measure the circumference of both your hands and consider the larger reading between the two.
Post which you need to refer to the manufacturer's size chart to know your glove size. If the measurements indicate an in-between size, you can choose the smaller size and wait for the material to loosen up a bit, or you can choose the larger size in case the smaller size is way too tight.
You can obviously rely on the size of your previous motorcycle gloves, when determining the size of your new gloves. However, it is important to check the accuracy of the measurement by consulting the brand's size chart.
While determining the right size for your motorcycle gloves it is important to remember that gloves that feel too tight will not allow proper blood circulation leading to discomfort. At the same time, gloves that are too large may cause you to slip from the handle bars. In both cases, your command over the motorcycle will be affected.
To be certain that the size you chose is the right one, adhere to the following pointers while inspecting the motorcycle glove:
On a summer glove, your hand should fit the entire glove, the fingers should touch the tip, while the glove should hug your hand as snugly as possible to ensure that it doesn't slip at all.
On a mid-season glove, the fingertips should not touch the end of the glove, but should have a gap of 1 to 2 millimeters.
On a winter glove, this gap should be 2-3 millimeters at the fingertips, so as to insulate the glove from the wind.
On a heated glove, similar to a summer glove, it should be well fitted so that the skin remains in contact with the heating elements.
Furthermore, if possible, grab the handlebars of your motorcycle and wiggle your fingers around the gear and brake lever and other important controls. You should be able to operate with ease and your thumb and other fingers should not be hindered during the operation.
Note: Sizes normally differ from brand to brand. Your 'Medium' size for some 'X' brand may or may not be comfortable when you switch to a different brand. It is best to refer to the circumference of your hand rather than 'S' or 'M' while referring to the size chart of a glove brand.
Which material to choose?
The primary factor that should be kept in mind while choosing a motorcycle glove is the material it is constructed of. This choice eventually comes down to leather gloves or textile gloves. However, this choice is not a simple or obvious one, as both materials have their own qualities.
Leather has the benefit of being very flexible, clinging to the skin and retaining moisture. A cushioned leather glove will always be warmer than its textile counterpart. However, leather is susceptible to ageing. It should therefore be properly looked after to prevent it from splintering.
The advantage of opting for textile glove is that it is less expensive. There are no specific maintenance requirements either, as the fabric is usually 100% washable. However, it is less likely to keep your hands warm and may require additional padding to offer the same protection as leather.
Lately, an increasing number of manufacturers have resorted to a mixture of materials. For instance, you can find gloves made of leather for the upper and lower parts, but the linings are made of textile material. This blend allows for an excellent balance between comfort and breathability of the hand (offered by the textile fabric). And not to forget synthetic materials such as Gore-Tex that offer excellent protection against the cold while simultaneously being waterproof.
Choosing between the glove type
Depending on your riding preferences, you may want to opt for a summer, mid-season, or a winter glove. For the hardcore riders who prefer to ride in all seasons, a single pair of motorcycle glove will not be enough. You will need at least two or more depending on the weather & temperature in your region. Also, it is ideal to have two-pair of motorcycle gloves if you occasionally ride in the rain, this will allow one set of gloves to dry while you switch to a fresh pair the next day.
And for those who only own summer motorcycle gloves, riding in winter will be far from pleasant. It is best to invest in a second, more suitable pair of motorcycle gloves.
When the weather is warm, we recommend gloves that allow breathability throughout the hands, preferably made from soft leather or lightweight textile fabric with air vents. This prevents sweating and keeps your hand comfortable while riding.
For the winter season, you should opt for warmer gloves. This means that the insulation should be more pronounced, and should be taken into account while shortlisting one. However, when more insulation is used, mobility is often compromised. It is therefore essential that you feel comfortable and that there is no restriction in the movement of your fingers inside the glove.
For those who ride often, but take a break in the winter, mid-season gloves usually work just fine. These gloves have the characteristics of being padded, while still offer a generous amount of ventilation. This enables them to be worn in both warm as well as cold conditions. Regardless, they may not be particularly ideal when it starts to freeze.
Lastly, you have the option of buying heated gloves. These gloves are equipped with a small battery pack that powers a resistor and heats the gloves from inside. And just like the heated car seats, once you have tried these gloves, it is difficult to ride without them.
Advice: Please note that under no circumstances should you wear fingerless gloves. In order to protect your hands from possible injuries, it is best to have them entirely covered.
Many motorcyclists consider cuffs to be aesthetically unattractive, however, it possesses more than one string to its bow. Since they cover part of the forearms, this extended glove maximizes protection against bad weather such as cold temperatures and rain. This is why you will often see long cuffs in winter and mid-season gloves. Moreover, in sports gloves, they provide extra protection and optimize the glove's resistance to tearing thanks to specific reinforcements.
Keep in mind that the cuff portion of the glove should extend at least 4 finger widths beyond the wrist joint. The cuff can be worn under the armhole of the jacket if it is short, or over it if it is long. Ideally, it can be put on both ways, but in case of rain, it is best to put the cuff inside the armhole to avoid water seepage into the glove. However, if your riding position is such that the wrists are above the elbows, then the cuff must cover the jacket.
Aside to protection, a motorcycle glove with short or no cuff can be quite comfortable in warm weather, but in case of a long-distance ride, always prefer gloves with longer cuffs.
Note: A fastening mechanism must be included in the glove (like Velcro®) which, once tightened, should hold the gloves in place, even during  slip. This fastening should preferably be on both the wrist and the cuff. And once tightened, removing the glove should be impossible.
Of course, the most important protection aside from the area around metacarpals is over the palm and wrist. So, make sure your glove is equipped with protective inserts around these areas without fail. And while the protection around the said areas is important, so are the ones on the edge of the hand, phalanges, and on the thumb.
The protection can be achieved with rubber inserts, gel pockets, carbon fiber plates, hard shells, and D3O pockets. We recommend hard shells or thick rubber inserts like D3O on the top of the hand.
Normally, motorcycle gloves have soft inserts around the palm and hard inserts around the knuckles. For standard usage, it's best to opt for a CE level 1 approved protectors. However, if you plan to use motorcycle gloves on racetracks, you should consider buying gloves that offer more protection.
Note: More protection often means more rigidity. This means that if you go beyond protection level 1, it is important that you physically assess the gloves to see how comfortable you feel. Rigid padding and strong armors on the gloves might decrease your responsiveness, and if you are not used to them, you might struggle with your bike on the track.
Importance of Gore-Tex in motorcycle gloves
An ideal motorcycle glove will have exactly three attributes: it will be breathable, windproof, and water resistant. Lately, the GORE-TEX® lining is used in the production of motorcycle pants, motorcycle jackets, boots, as well as motorcycle gloves, due to its distinctive properties. This lining ensures a high level of comfort for the wearer, while simultaneously providing a stronger grip.
The GORE-TEX® membrane is a microporous membrane made of a stretched plastic compound, ePTFE (expanded polytetrafluoroethylene). And because water droplets are about 20,000 times larger than the pores of this membrane, it is both windproof and waterproof from the outside. Nevertheless, body moisture in the form of water vapor escapes to the outside due to its breathable properties and thus ensures optimal comfort.
Tip: Please note that Gore-Tex membrane, due to its water-resistant properties, will naturally limit the amount of air entering into the glove. It is therefore recommended to opt for Gore-Tex while looking for winter or waterproof gloves only.
Importance of strong seams
When it comes to durability and comfort, the seams of a motorcycle glove play a decisive and important role. If the seams on the inside of the glove are poorly stitched or made of the wrong material, it can severely hurt your fingers while riding. Which is why many motorcycle gloves have seams on the outside.
To ensure that the glove delivers on its potential in terms of safety in the best possible way and continues to last for many years, the seams must be of high quality and skillfully stitched. Else, there is a possibility of wearing and frequent slips while holding the handle bar.
Another important factor to keep in mind while shopping for a glove is to make sure it is sewn from strong threads (ideally Kevlar® or equally strong material). Double or triple stitching is also an important indication of a good motorcycle glove.
One can find a pair of gloves starting at $20, and the prices can go as high as $400 (Dainese Full Metal 6 Gloves is priced at $429). However, a high price does not necessarily mean a more protective glove. The price is mainly influenced by the materials and the membranes, as well as by the technologies used. The price of leather is higher than the price of a textile glove. Similarly, Gore-Tex is more expensive than OutDry and Titanium (used for reinforcements) is more expensive than plastic.
Moreover, not all leather glove will cost the same, and may differ in price depending on whether it is cowhide, kangaroo, or goatskin. To add to this, the price is also linked to the complexity of some gloves, which can have up to 160 different components, sewn by very skilled hands; which requires a long and meticulous assembly time, and therefore are more expensive.
This being said, a decent pair of summer gloves can be found for as little as $50. On the other hand, you will have to spend around $100 for a pair of winter gloves and around $200 for a pair of heated or track gloves.
Read more: Motorcycle Gloves Below $100
Characteristics of a good motorcycle glove
A good motorcycle glove manufacturer, based on decades of experience with motorcyclists and extensive study of motorcycle accident injuries, thoroughly incorporate safety features into their motorcycle gloves.
Naturally, these advancements cost money, which of course makes the glove more expensive than any low-cost motorcycle glove available in the market. In our opinion, they are worth it, provided the following features are fulfilled:
Reinforced knuckles
Palm slider
Ventilated or weatherproof depending on the season for which the glove is intended
Dual padding on impact zones
Robust closure system to ensure that the glove is not detached in the event of a fall
Pre-curved finger construction for a comfortable grip
Thick, durable surface on the back and top of the glove to prevent small stones and gravel from penetrating through the glove.
Tips for choosing motorcycle gloves
A pair of motorcycle gloves must be able to guarantee extreme safety, something that many people underestimate and are wrong in doing so. This is why impact protectors must be designed with an extremely solid and robust material, but at the same time be as light as carbon fiber.
There must be no difficulty in getting the fingers inside the finger pockets. Also, the movement of the fingers should not be affected to any extent.
We advise to focus on models of gloves that are designed to accommodate the entire length of the fingers while not leaving the palm, which is the most impacted area in case of a fall.
Refrain from purchasing large gloves since leather usually stretches after few weeks of usage.
While pulling out the hand, the lining must not stick to the fingers and should not turn inside out.
As you grasp the handlebars, the fingertips should not press against the front of the glove, and no wrinkles should form on the palm. These wrinkles can create pressure points and friction points on the palm while riding.
It is important to have soft protectors or at least padding on the base of the hand, the outer edges of the hand and the knuckles. Also, they should not press when the hand rests on the handlebar grip.
If possible, opt for gloves with double stitched seams.
And lastly, the cuffs of the gloves should extend over the end of the sleeves of your motorcycle jacket. This will prevent water from entering into the sleeve.