How to winterize a motorcycle properly
Reader Disclosure
Our editorial content is reader-supported. If you click on some of our links, we may earn a small commission.
Learn more here.
Older generation of motorcyclists know exactly what "conservation" of motorcycle for the winter means. There procedure used to involve almost complete disassembly of the motorcycle engine, chassis, tires and all other parts which were then kept securely in a closed room. But in today's technological world, with modernized lubricants and fuels, these procedures are no longer necessary, unless, you are preparing for a nuclear winter. So how do you winterize a motorcycle and what is the correct process? Let's find out.
How to properly store a motorcycle for winter
Preparation for winter storage can be broken down into stages.
Stage 1: Preparation
"A clean bike is a happy bike"
The motorcycle should be stored for winter only in a clean and dry state.
Clean and dry motorcycle parts are less susceptible to corrosion and oxidation. A distinctive feature of motorcycle is the openness of its components and assemblies. While carrying out the procedure, this factor must be taken into account. Products for car wash may not always be useful for a motorcycle. To wash your motorcycle, you need to choose an effective as well as neutral pH soap that is compatible with all the parts installed on the bike. Do not get carried away with high pressure washers. Better to carry out the procedure manually. It is best to choose products of well-known brands for washing and maintenance; since they are proven to be effective and safe on metals. Once done with the washing, allow your motorcycle to dry.
The exterior elements of a motorcycle are generally made up of allow, chrome, plastic, aluminum and rubber. They are easy to wash, but still require follow up. Chrome parts must be treated with a special agent for shine and, most importantly, protection. We recommend using the Chrome-Gloss-Cream polish for chrome surfaces. The polish gently cleans chromium from plaque, protects it from the external environment as well as corrosion.
Plastic parts also need special attention; painted plastic surface can be polished with any kind of car/bike polishes, but in case of black plastic, a special approach is required. The fact is that black plastic is exposed to ultraviolet radiation and over time begins to lose color and become fragile. This can be avoided by polishing the surface with special compounds for black plastic, for instance, Meguiar's Motorcycle Care Kit (click to buy) gives the plastic surface an optimal appearance in one treatment. Besides, it provides excellent protection against harmful environmental influences and UV radiation.
When attending the rubber parts like linings, seals, tubes, etc. it is necessary to use silicone based products. They come either in the form of a spray or in special tubes. Which one to choose depends on your budget and availability (silicone based products protect both rubber and plastic parts UV exposure).
For the leather parts such as the saddle cushion, it is recommended to use leather care products. It removes dirt and gives the bike an elegant look along with an added protection from aging and coarseness during storage. Moreover, it prevents the formation of molds and eliminates any musty odors.
Stage 2: Servicing and Maintenance
Aesthetics are important, but not more than the engine of the bike. While storing the motorcycle for winter, a complete inspection of the external condition of the engine must be carried out. There should be no drips, fog, and dirt. If any of the above problems are found, they must be eliminated. It is highly recommended to change the engine oil. This is due to the fact that during storage the oil will oxidize, and by the beginning of the season it will lose some of its operational properties. The oil on which the season was rolled is more prone to this, since it is already contaminated with oxidized molecules. The choice of oil depends primarily on the recommendations of the motorcycle brand. The manufacturer specifies what viscosity and specification to use for the engine of a particular motorcycle and is generally mentioned on your service manual.
Refueling; fill up your motorcycle tank completely to the brim. In a steel tank, moisture built over time can lead to the formation of rust, the particles of which, sooner or later, will certainly get into the engine power system. Fueling the tank completely makes it impossible for any kind of oxidation to take place. We also recommend adding "fuel stabilizer" into the tank. You can buy it at any specialty store. This liquid prevents gasoline from decomposing and stratifying. Thanks to this, in the spring you will have fuel in the tank that is quite suitable for the engine. If this is not done, then it is better to drain the old gasoline in the spring.
Tire pressure; check the tire pressures and inflate if necessary. It can even be a little higher than the recommended pressure, so that the tire does not decompress and deform. If the motorcycle stands on a flat or even a slightly lowered wheel throughout winter, the geometry of the tires may get disturbed, and, you will feel vibration while riding. To be on a safer side, it is best to place the motorcycle on center stand to reduce the load on tires as well as suspensions.
Lubrication of cylinders and other units; the cylinders should be lubricated with oil to protect them from oxidation. If you know for sure that the motorcycle will be standing for more than 6 months, then it is better to unscrew the plugs and pour a tablespoon of new, clean engine oil into each cylinder. Post which, you need to crank the engine several times to distribute the oil to the cylinders and then screw the plugs back in.
Battery; remove the negative terminal from the battery to minimize its self-discharge. In order to keep your motorcycle battery charged during winters it is required that you connect a specialized charger to the battery so that it continues to power it throughout the winter. However, modern day motorcycles are already equipped with battery saving mode, so you need not require them to charge.
Maintenance of transmission; depending on the type, i.e., Belt, Chain, or Cardan, their maintenance may vary. If your transmission type is Belt, then you're in luck, as this is the simplest and most reliable type of drive. The main thing is to monitor the condition of the belt and change it regularly. If you have a Chain, then the main thing is to monitor its condition and lubricate it periodically. Before winter storage, the chain must be cleaned for any kind of dirt with a motorcycle drive chain cleaner. The cleaner will quickly clean the surface that is soiled with old grease, dirt, dust and sand. For the third type of transmission, Cardan; the main thing to keep in mind is regularly changing the transmission oil, and before storing your motorcycle for winter, it must be replaced with a new one. It is also necessary to monitor the gearbox oil seals.
Watch out for rodents; rats can be found in garages and basements. And they, as you know, are inclined towards electrical wirings and other plastic parts. In order to scare off rodents, you need to spray liquid or chemical near the tires and place few rat traps in its vicinity.
Protective cover; a soft motorcycle cover (click to buy) is a useful thing, and not only if you are parking on the street. Without it, even indoors, you will be surprised how much dirt and dust can settle on your motorcycle during the winter! But when covering the motorcycle with a cover, make sure it is dry too. A wet compress is unlikely to benefit metal parts!
That's all; your motorcycle is ready to be stored for the winter season. If you've done everything right, then there is nothing more to worry about.
What about the storage location?
You do not plan to store your motorcycle right outside all winter, do you? If you have your own warm garage or live in a country house with a dedicated storage room, then you can skip reading. But if you are not one of those lucky ones, then there are several options.
Where to store your motorcycle in winter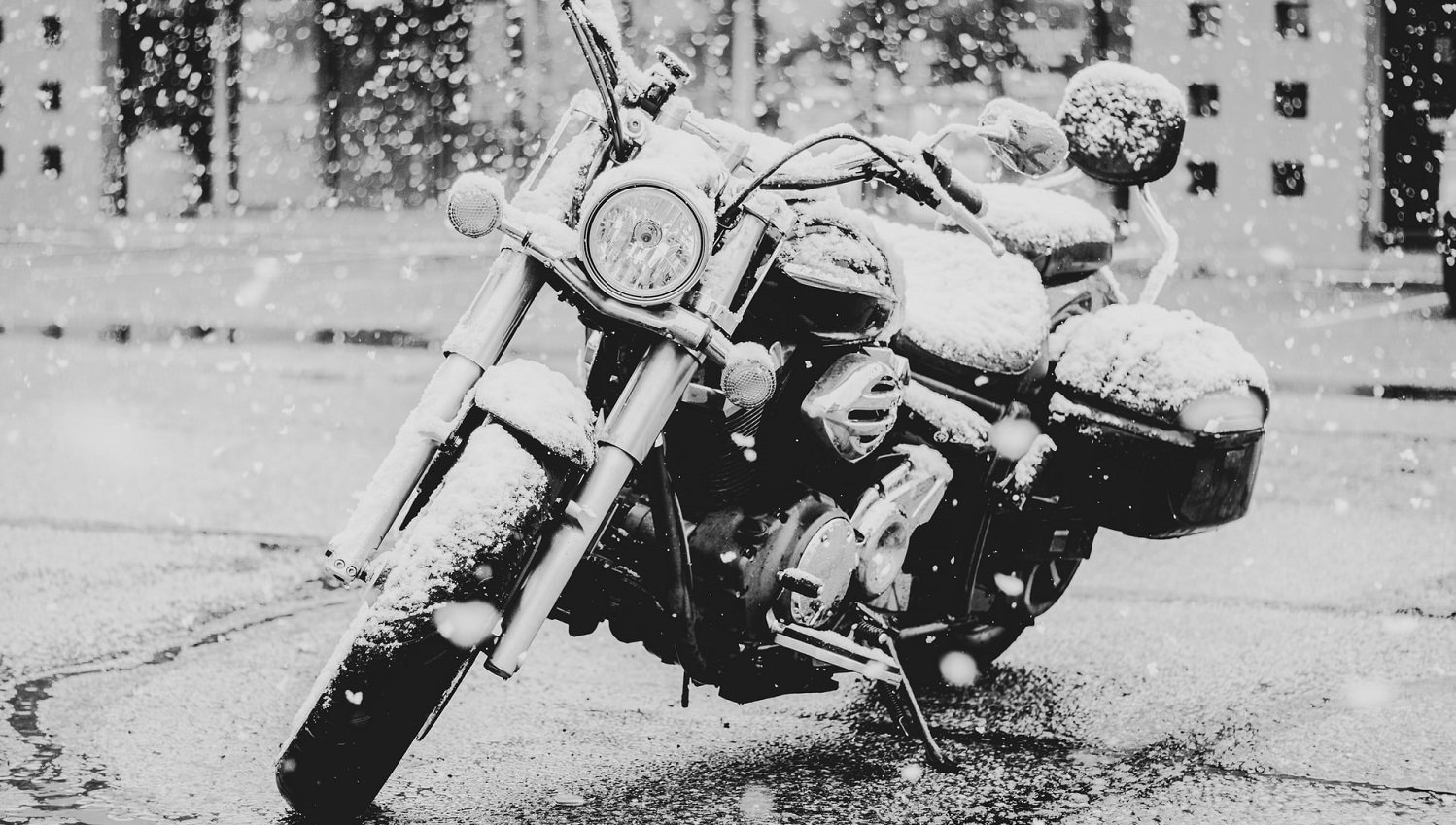 Choose a storage location carefully; it must be safe, warm and ventilated. Besides, do not consider options of storing a motorcycle on the balcony, staircase, front door, or in the basement of a nearby store, all these options are substandard. Any self-respecting motorcyclist will make every effort to take care of his beloved motorcycle in the best possible way. Let's go through some of the common storage options and decide the most ideal place to store your motorcycle for winters.
Metal Garage / Shared Container
Not the best option; the cons of such storage clearly outweigh the pros.
Pros: First of all, it is cheap. And it will be even cheaper if you rent a garage for several people at once. Typically, four motorcycles are placed in a standard parking space. This is where the pros, in fact, end. Yes, the motorcycle will seem to be sheltered from precipitation and prying eyes. But it only seems so.
Cons: Unstable temperature in winter, with frequent, as forecasters say, zero crossings. This means that your motorcycle and everything around it will constantly freeze, then thaw and freeze again, which is an ideal conditions for the development of corrosion and oxidation of electrical components. Yes, rain and snow will not get on the motorcycle, but condensation will do all the work for them, which is simply impossible to avoid in such places.
Also note that in a shared garage, the keys to which are held by three, four or five people (including the landlord himself), can be considered not locked at all. Surely someone from the participants of such a "winter cooperative" will certainly lose their keys, while someone will make a duplicate and give it to their friend, who will again, pass it on to another friend. As a result, you will inevitably end up with a courtyard, where no one knows anything and no one is responsible for anything.
Winter theft of motorcycles from such places is a common thing! And by cooperating together, you only make life easier for intruders who get the opportunity to drive away several motorcycles at once.
Underground Car garage / Office / Residential building
Not a bad option; you just need to negotiate with the security or with the owners. Usually this is not difficult, because in any car parking there are always corners where the car does not physically fit, but the motorcycle fits without problems.
Pros: Stable above zero temperature throughout the winter, as well as a very decent level of safety. Security at such sites is usually more serious than in ground-based garage cooperatives, and intruders will have little chance of leaving such a garage on a motorcycle in the middle of winter. Getting a truck inside and loading your bike into the back is even less. After all, the space is monitored by CCTV cameras.
Cons: It's not free; however, it is unlikely that a lot of money will be asked for such storage, but still. And the most important thing is that, even after giving the money, you will not receive any documents and, accordingly, no official guarantees of the safety of your property.
Official winter storage
This service is usually offered by motorcycle services, large motorcycle stores that have large free areas, and many motorcycle dealers.
Pros:  You enter into an official storage agreement, according to which the organization, to which you entrust your property, takes responsibility for its safety. Usually, before the conclusion of the contract, the motorcycle is photographed from all sides and all existing damage is carefully described in order to be sure that no new ones have appeared in the spring.
Another advantage of using this service is that your motorcycle is accepted in a running state and then issued in the same way. This means that taking care of the condition of your battery, so that the motorcycle can easily start in the riding season, also falls on the shoulders of the keeper. During the winter, regularly checks will be conducted and rectification will be done if required.
Cons: It's not cheap; in New Jersey for example, the average price of motorcycle storage ranges from $55 to $150, and it can be more expensive, depending upon the dealer and location. Moreover, the price depends not only on the status of the keeper, but also on the dimensions of the motorcycle itself (which is logical). Since a small-sized motorcycle takes up much less space in the parking lot than the Honda Gold Wing or Harley Davidson Road Glide.
Another thing to keep in mind is that once you have officially handed over your motorcycle for winter storage, you will not see it until spring. For some, this is not a problem. But if, in the middle of winter, you suddenly come up with the idea to do something with it, then it won't be possible for the keeper to do so. The fact is that the storage areas are packed with motorcycles quite tightly and to get to yours, the keeper might have to roll a dozen others from place to place. Few people want to do this, especially without any tip.
Street
The easiest option in every sense is to chain your iron friend to the bars under the windows of your home. Of course, you will need a good strong chain or a special anti-theft bracket with alarm, a cover, as well as constant supervision of the motorcycle. This will not protect the motorcycle from vandals, bad weather or theft, but if you are lucky, you can buy new protection for the next season with the money saved from paid parking or renting a garage. If, of course, there is still something left of the motorcycle.
Pros: Free, motorcycle is always at hand.
Cons: Unsafe and will start to deteriorate with time.
To conclude; seasonal weather conditions will not be a problem for anyone who has taken care of both the bike and the storage location of the motorcycle in advance. The energy that you spend on conservation and the generosity with which you approach the issue of security will definitely pay off. Start the season with adrenaline, not problems!
If you think that preparing a motorcycle for winter only means covering it up with a tarpaulin and storing it in your mother-in-law's basement, then you gentlemen are deeply mistaken. With the arrival of riding season, your motorcycle will not thank you for this; instead it will chastise you with unexpected problems and unpleasant breakdowns.
No one needs such surprises, because the only thing that none of the motorcyclist ever want to discover is a problems with his two-wheeled friend, which appeared post hibernation. In order to avoid any kinds of problems, and successfully prepare your motorcycle for the riding season, it is important to properly winterize your motorcycle by following our step by step guide. Happy winters!