Dirt Bikes for 8-Year-Old Kids
Kids that reach the age of 8 generally progress from beginner level dirt bikes and demand either an intermediate model that offers more power or a bigger model since they have outgrown their current bike and no longer enjoy their "toylike" capabilities. Regardless, if your kid wants to take a next step in dirt biking, it is time to upgrade.
Dirt bikes for 8-year-old kids must meet specific needs in terms of adaptability and must allow your kid to become independent once in the saddle. While some kids have already mastered the skills, others are just beginning to explore their abilities. So, it's important to evaluate your child's capabilities, as well as the budget you want to allocate to this purchase. Because, even though these dirt bikes are intended for kids, they can be pricey, so it's important to choose the right dirt bike that suits your own budget and still appeals to your child.
However, it is often difficult to make the right choice with so many options available to us as parents, with an overwhelming choice in terms of design, pricing, and features available in the market. So, let's try to enlighten some of the best dirt bikes that are ideal for your 8-year-old kid.
Best Dirt Bikes for 8-Year-Old
The all new KTM 65 SX is a beginner-friendly, compact, and an all-round dirt bike for young kids. And with recent upgrades, it is now no less than a high-performance full sized motocross bike made for adults!
It features the revolutionary XACT 35mm WP Upside-Down fork and includes numerous technical improvements throughout, all of which contribute to a new benchmark in terms of performance, riding dynamics, handling and precision. And thanks to this new fork, a significant reduction in weight has been achieved that further adds to its responsiveness.
An anodized robust handlebar made from aluminum features a rider-protective foam pad. And the body itself is covered in graphically striking plastic.
With a narrow, sporty seat and ergonomically optimized overall design, the KTM 65 SX is mounted on a sturdy chromium molybdenum steel frame. It is also equipped with a powerful single cylinder engine with a smart cooling unit and two large radiators. Plus, this engine is coupled to a Formula multi-disc wet hydraulic clutch, and a 6-speed gearbox offering effortless shifting.
Owing to the new suspension system, the bike offers increased shock absorption at the front, as well as an option to adjust the hydraulic pressure levels for different riding styles.
One of the advantages to choose KTM in comparison with any other brand is the accessibility of spare parts, something that is of great importance since kids regularly crash their bikes no matter how careful you are!
Base Price: 5,399.00 USD
Highlights
Dry weight: 53 kilograms
Seat height: 29.5 inches
Starting mechanism: Kick start
Displacement: 64.9cc
Engine: 2 Stroke
Clutch: Multi-disc clutch
Transmission: 6-speed
Inspired by the flagship Husqvarna Cross Country bikes, the Husqvarna TC 65 is characterized by its precise ergonomics and sporty riding posture. Featuring state-of-the-art electronics to enhance the performance of the bike, the TC 65 offers a wide range of riding styles and features a highly durable chassis that is extremely lightweight, compact and reliable.
In addition to the use of the latest technology, the engine is also equipped with a pressure-regulated exhaust valve, which contributes to its superior performance. On top of that, it is equipped with a 6-speed gearbox with manual override and a hydraulic clutch. In this way, the rider always has full control over the power.
To optimize weight distribution, the crankshaft has been moved slightly closer to the center of gravity. Further, an efficient exhaust system with a balanced and lightweight muffler design is developed specially for the TC 65.
The proprietary WP AER 35mm front fork and WP mono 270mm rear shock ensures outstanding dampening. This suspension effectively absorbs any bumps on the trail, allowing your kid to focus on the more important things. Added to this is an ergonomically designed handlebar made of heavy-duty aluminum which includes cushioning at the center for the safety of your kid.
And finally, the TC 65 features hydraulically driven brake calipers and large wavy front & rear brake discs measuring 198mm and 160mm respectively. Thus, offering an enhanced braking feel and stopping capability in all conditions.
Base Price: 5,499.00 USD
Highlights
Dry weight: 53 kilograms
Seat height: 29.5 inches
Starting mechanism: Kick start
Displacement: 64.9 cc
Engine: 2 Stroke
Clutch: Multi disc automatic clutch
Transmission: 6-speed
A new addition to the YZ series of moto crossers, the YZ65 is powered by a liquid-cooled 2-stroke 64cc engine in a lightweight chassis that can be easily maneuvered by an 8-year-old.
YZ 65 is aimed at kids weighing 50 kilograms or less who are new to the world of motocross bikes.
The YZ 65 incorporates more than 40 years of Yamaha's expertise in technological development, beginning with the first-generation YZ 250 in 1973. This model is both lightweight and downsized to make it easy for young riders to operate, and has the much-needed performance required for a quick ride.
The main features include a redesigned liquid-cooled 2-stroke 64cc engine that is really simple yet powerful, a completely revamped aluminum rear frame, and front and rear suspensions that ensure a stable ride especially around the corners.
Unless you take a closer look at this bike, you can easily mistake this 65cc dirt bike for an advanced full-sized cross model. In fact, one can feel the same simplicity and swiftness in the profile, that you usually find in advanced dirt bike's specifications.
Contributing to the appearance is a narrow seat, on which the kids can move quickly and easily for effective balancing, a pronounced fender designed to direct the oncoming flow of air toward the radiator and protect it from rocks and branches, and an impressively arched exhaust pipe that ensures minimal restriction to the exhaust gases.
Base Price: 4,699.00 USD
Highlights
Wet weight: 60 kilograms
Seat height: 29.7 inches
Starting mechanism: Kick start
Displacement: 65 cc
Engine: 2 Stroke
Clutch: Multiplate wet clutch
Transmission: 6-speed
Benefiting from all the expertise in the field of electric powered bikes developed over the last ten years, KTM has come up with the KTM SX-E 5, an all-electric, high-performance, compact, and professional dirt bike with a torque similar to that of 50 SX.
When compared to its petrol-powered sibling, the SX-E 5 is both low in maintenance and practically noiseless thanks to its electric drive. Your 8-year-old will find it much easier to get started by choosing from six power modes, while the maximum power mode offers plenty of action required by any experienced rider.
The seat height of the SX-E 5 can be varied by 4 inches (from 26 inches to 22 inches) using the rear end of the frame that can be bolted in two positions. An optional lowering kit is also available from the KTM PowerParts catalog in case you need to further lower the bike to accommodate your little junior.
The power lasts for 25 minutes on a full blast and approximately 2 hours on beginner modes.
The KTM SX-E 5 is built to transform the off-road dirt biking segment among kids. The fact that young off-roaders will be able to do their laps in the backyard of the house and will no longer be tied to practice schedules on the motocross track will open up a whole new range of possibilities for your kids.
Base Price: 5,399.00 USD
Highlights
Rated output: 2 kW / 3,200 RPM
Torque: 13.8 NM
Battery: Lithium-ion
Capacity: 21 Ah
Full charging time: 70 minutes
Seat height: 26 inches
Wet weight: 40.5 Kilograms
Being the smallest in the KX series, the Kawasaki KX65 is intended to be the first motocross bike for your kid that prepares him/her for the future championships. And despite its small size, it is absolutely robust and can even be viewed as a full-fledged performance machine.
The dependability and rugged durability of the KX series is well known, which makes the Kawasaki KX65 a good choice for your young one. In fact, this bike is engineered to withstand the demanding conditions of dirt biking and yet is really easy to maintain.
The KX65 features a miniaturized version of the shock absorbers from its bigger brothers in the KX cross-country series. Moreover, it employs a 33mm leading axle telescopic fork with 4-way rebound damping.
If you are looking for a used one, we would suggest you to choose a model produced after 2015, as it includes some significant changes that further revamped this dirt bike.
The power supply uses a 24mm Mikuni carburetor, the ignition is electronic, and the engine employs a kick start mechanism; a proven & reliable option for cross-country models.
Its powertrain is based on the principle of high performance combined with compact weight and size. Added to this is its liquid-cooled, single-cylinder, two-stroke engine boasting a displacement of 64 cc and a 6-speed gearbox. Plus, the 59kg wet weight of the bike combined with the 17.03 HP engine produces enough power that will even leave you amazed.
Base Price: 3,899.00 USD
Highlights
Wet weight: 59.8 kilograms
Seat height: 29.9 inches
Starting mechanism: Kick start
Displacement: 64 cc
Engine: 2 Stroke
Clutch: Wet multi-disc manual clutch
Transmission: 6-speed
The KTM 50 SX is a premium dirt bike with lightweight construction that is designed for young enthusiasts. It features state-of-the-art self-cleaning wave brake discs and hydraulic calipers and is equipped with an ultra-modern ergonomic handlebar design that provides a high level of stability and comfort.
With its high-quality WP Suspension components, the KTM 50 SX offers excellent shock absorption for improved handling and a smoother ride. Its automatic clutch can be easily adjusted according to the riding mode and the weight of the rider.
With its liquid cooling system and integrated radiator, the compact power unit of the KTM 50 SX is designed to protect even from engine overheating. And thanks to its impressive power, your kid will enjoy higher revs and increased traction. In addition, the KTM 50-SX features the latest WP XACT front fork with revolutionary AER technology, fully adjustable rear suspension, cool graphics, and the potential to make dirt biking fun and safe. To ensure rider safety, protective padding around the center is also provided to prevent hard knocks.
If you want to reduce its power, KTM also provides an additional kit designed specifically for beginners and intermediate riders.
All in all, this is a true off-road dirt bike that is ideal for any beginner rider. In fact, the KTM 50 SX is the first choice for parents when their kids are entering the world of motocross or taking their first step in a racing environment. But do note, if your kid is already trying to jump on the trails or trying to look for more adventure, it's better you consider a 65cc dirt bike.
Base Price: 4,599.00 USD
Highlights
Dry weight: 41.5 kilograms
Seat height: 26.1 inches
Starting mechanism: Kick start
Displacement: 49 cc
Engine: 2 Stroke
Clutch: Multi disc automatic clutch
Transmission: Single-speed automatic
Power reduction kit
There are plenty of great bikes that are excellent for an 8-year-old, but if you think your child is a little shorter than his or her peers, there is no need to push for a taller bike. So, what you can do instead is focus on improving his/her riding skills, whilst providing a safer environment to learn and enjoy.
The TT-R50E is the perfect bike for such situations, having a seat height of only 21.9 inches, yet it offers a lot in terms of performance when compared to beginner dirt bikes like the PW50 or CRF50F.
The other thing about this bike is that it will prepare your child and bridge the gap from entry-level 50cc dirt bikes all the way to 85- or 110cc bikes that are designed for intermediate riders. As it is, the TT-R50E is a 49-cc air-cooled engine with a 4-stroke cycle, making it extremely easy to handle.
In addition, you also get a throttle adjuster to control the power if your kid has just started to ride this bike. Plus, you get a 3-speed constant-mesh automatic clutch that gives a real dirt bike feel. And because it's not exactly entry level, Yamaha has offered an electric start rather than a kickstart. This said, you get an ignition key along (you can't start the bike without the key) in case you want to keep an eye on your kid all the time.
With a weight of 58 kilograms, the TT-R50E is about 18 kilograms heavier than the PW50 and 9 kilograms heavier than CRF50F. So, it's definitely ideal for an 8-year-old who wants the feel of a real dirt bike, but is still having a hard time tip-toeing on any intermediate bikes.
Base Price: 1,749.00 USD
Highlights
Wet weight: 58 kilograms
Seat height: 21.9 inches
Starting mechanism: Electric start
Displacement: 49 cc
Engine: 4 Stroke
Clutch: Automatic clutch
Transmission: 3-speed
With a very impressive technical specification and a robust yet beautiful body, the KTM 65 SX stands out as our first choice for an 8-year-old kid.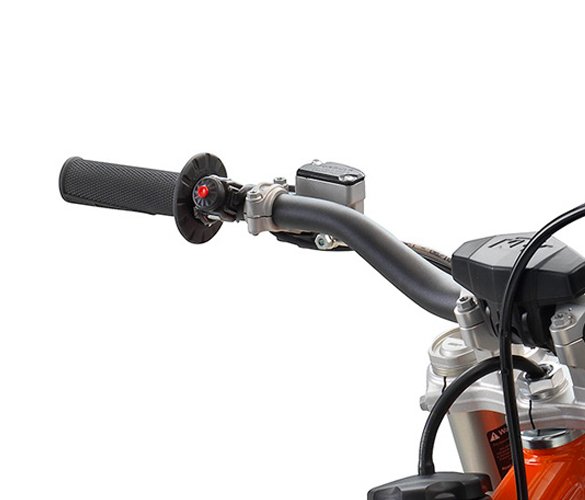 First and foremost, it is worth noting that the revamped chassis significantly increased the bike's strength and resistance against both torsion and impact, while simultaneously enhancing the bike's handling. In fact, this was made possible through the use of chrome-molybdenum steel, which further contributed to its high speed stability.
In addition, its swingarm is made of die-cast aluminum designed using the latest calculation and simulation software, that further reduced the overall weight whilst retaining an optimal level of stability.
A single cylinder two-stroke engine with a displacement of 65 cc together with a 6-speed gearbox thrusts the 65 SX with power that can easily surpass 100 km/h mark. Besides, the tank can hold around 3.5 liters of petrol that further provides a good range.
Just like the full-sized dirt bike, the 65 SX sports lightweight black anodized aluminum wheels for strength and durability. And with these wheels, you get OEM MAXXIS knobby tires that deliver unparalleled traction regardless of the trail.
It further features a 198mm front and 160mm rear disc brake and a massive 4-piston caliper that offers a quick and effortless braking performance. On top of that, these bikes are actually easy to master by a young kid, owing to the hydraulic braking system that guarantees the highest level of efficiency. Plus, its rugged and resilient handlebar is able to withstand occasional falls without any problems, which is typically a common sight when a kid is maneuvering around.
In a nutshell, the 65 SX is loaded with everything your kids can desire starting from right clutch and transmission to the latest WP XACT front fork with revolutionary AER technology as well as modern graphics and class-leading power delivery.
With this, we have come to an end of this editorial article. Hope you found this article insightful and helpful. We are pretty sure that with the help of our detailed guide, you would have surely shortlisted one bike. But in case you need any further information, do let us know.
Further reading: Best dirt bike for 9 year old
And don't forget to share this article among friends and family. Good Bye!