How to protect your hair while riding a motorcycle
Reader Disclosure
Our editorial content is reader-supported. If you click on some of our links, we may earn a small commission.
Learn more here.
If you ride a scooter or a motorcycle every day, you must be wearing a protective helmet as well. And no matter what you think about this essential safety gear; that the helmet looks unaesthetic, that it ruins your hairstyle or it is the main cause of your hair loss, you still have to wear it. Today we are going to share some tips to help you protect your hair while riding a motorcycle.
Be it fine, curly, or lush hair; your hair type does not matter. Once you have put on the helmet, it is natural that your hairstyle will be affected, even if the helmet is well-ventilated. Truth be told, wearing a helmet does not actually result in any kind of hair loss, as the helmet has nothing do to with your hair's health. It is just an impact protector and serves as a shield in case of any accident. But when you put on a helmet, the scalp begins to generate more heat than usual. It is sweating that actually causes your hair to suffer.
However, there are some types of hairstyles that are proven to be affected much less from the adverse effects of wearing a helmet. Look for hairstyles that fit easily on their own, such as milled haircuts, gradient haircuts, or any creative hairstyle. Short hair is preferable. If you have long hair, we recommend pinning it up or pulling it back.
Try not to use styling products before putting on your helmet. Gel or mousse will ruin your hairstyle due to the damp environment under the helmet, which is also harmful to the hair. Moreover, it's not very hygienic as these styling products will contaminate the inside of your helmet.
Watching a rider gushing through the winds on his motorcycle is a delight to the eye, especially when his hair is flowing out from under the helmet. But the wind, dust and pollution can damage the rider's hair. On the other hand, if you try to wrap your hair under the helmet, then nothing good will come of it either, as the sweat will ruin the texture as well your hair style completely. Try to pick a well-ventilated helmet so your head doesn't sweat as much. If you notice your hair is getting greasy due to frequent wearing of the helmet, use a dry shampoo from time to time, which should be applied to the hair roots to avoid contamination.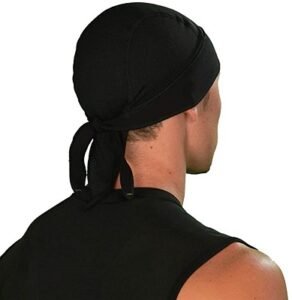 How to wear a motorcycle helmet without damaging your hair
First, it is important to learn how to put on and take off your motorcycle helmet correctly. To do this, take the helmet by the fasteners and push them apart, then gently put on the helmet in a circular motion so as not to damage your ears. To remove the motorcycle helmet, follow the same process, push apart the fasteners and slowly remove it from your head.
Make sure you have fastened your motorcycle helmet properly. A well-fitted motorcycle helmet fits perfectly and snugs comfortably around your head, but that doesn't mean you don't have to button it. An unfastened helmet will rub continuously around your scalp that may cause hair fall. Moreover, an unsecured motorcycle helmet during a high speed crash can easily fly off your head and will not be able to protect you from impact.
Advice for women rider; wearing a helmet will not cause hair loss or damage, but due to the moisture and heat accumulated inside the helmet, it can ruin your hair. Short hairstyles work better on a motorcycle helmet, and in case you have long hair, it is best to make a bun or wrap the pony tail with a soft cotton breathable cloth. If your hair still turns oily and even choosing a helmet with better ventilation does not help, then you can use dry shampoo (Mousses, gels, varnishes will only make the look worse; moreover, they will spoil the inner linings of your motorcycle helmet).
Put on a comforter under the motorcycle helmet. This will make it easier to put on the helmet and add comfort, thanks to special cooling and moisture-wicking materials. As an added bonus, if you are wearing a comforter, you will less likely need to wash the linings of your helmet.
When fastening a motorcycle helmet, especially on the D-shaped fastener, make sure that there is a finger gap between the latch and the chin.
How to keep your hair from getting tangled on a motorcycle
The most important thing is to look neat. If your hairstyle looks shaggy and sloppy, then no makeup and fashionable bow will help you. And this is the most pressing problem of biker girls (or anyone with long flowing hair), because their hair gets tangled every time! And even if you have the most ideal hairstyle depending on the type of helmet, things may get out of hand as soon as you take it off.
The good news is there is a way to fix this problem. The first necessary thing, which must be with you, should be, oddly enough, a comb. It is not necessary to carry a large massage comb with you, a small comb will be enough; it will help to style naughty curls, "roosters" and knots, both on straight and curly hair of medium length.
For riders with long hair (no matter straight or curly), the ponytail will be the ideal hairstyle, preferably low so that the elastic does not press on the head and does not create extra volume. Hair varnish and gel can be your faithful friends and companions for creating a neat motorcycle hairstyle, but make sure you apply them post your ride.
A bandana can also be a good solution for keeping your hair neat.
For those with short wavy or curly hair, it is best to spray a little hairspray on your hair before tying the bandana, or alternatively you can spray it with a "wet hair" spray. This will help keep your curls beautiful and well-groomed. After riding a motorcycle during the day, you can apply hairspray (if necessary) a couple more times and shape your hair with your fingers.
For females with straight hair, we advise to use a smoothing and straightening balm for your hair so that after a motorcycle helmet and a comforter is removed your hair does not look like icicles. The balm prevents drying out, makes it easier to comb and maintains the natural structure of the hair. Apply it to clean, damp hair, blow dry (optional) and enjoy the perfect hairstyle all day long!
How to maintain hairstyle while wearing helmet
1. Always dry your hair well
If the hair remains even a little damp, the hair will take on the shape of the helmet. It is advisable to wash your hair two hours before leaving (yes, this is difficult to do when you need to be at work at 9).
2. Turn on cold air for the last 2 minutes of drying
The hair must be cooled at the end of drying: it will be less tangled, the volume will last longer, and the helmet will no longer be able to radically harm the styling.
3. Use less styling products
If possible, keep the amount of gel or varnish to a minimum. First, if the styling product doesn't dry out, you will get the same results as with wet hair. Secondly, the gel in the hair + the helmet = dirty and messy hair. Stylists advise using volume sprays with a thermal protective effect; this will prevent the hair will from sticking together.
4. Buy a quality hairbrush
If you take off your helmet and turn into a dandelion, then it's time to look at your comb. Is it metal or plastic? Throw away and replace with an anti-static model (e.g. silicone).
5. Remember that rose oil is a natural antistatic agent.
Apply a drop of rose oil to a comb (of any material) and your hair will stop electrifying.
6. Spray an antistatic agent inside your helmet
Another way to prevent flying hair is to spray the inside of your helmet with any clothing antistatic.
7. Wear a thin layer of cotton cloth before wearing the helmet.
Most budget friendly option to protect your hair while riding a motorcycle is to wear an additional layer of hat that is sewn from a soft cotton cloth. This can be made at home from any cotton t-shirt, however, it is important that the material from which the cloth is knitted is not prickly and does not contain more than 30% artificial fibers. Otherwise, the scalp will constantly sweat.
8. Wear your helmet correctly
Always remember to pull the helmet over your head, as if moving it back from your forehead, then the hair will fall under the hat in one direction.
9. Don't choose really tight helmets
Do not buy excessively snugged helmets; they slip off your head in an ugly way and ruin your hair. Pay attention to the inner linings that are too tight, which not only distort the hair in an ugly way, but also leave a mark on the forehead. A motorcycle helmet should be of perfect fit, it should neither be too tight nor too loose.
10. Give preference to hairstyles without volume at the roots
In the cold season, do hairstyles in which the volume is distributed not at the roots, but at the ends. For example, you can curl your hair to mid-length. Another option is to completely remove the volume and straighten the hair perfectly.
11. Tie long hair into a bun
We advise riders of long hair to make a bun (it can be low so that the helmet is pulled over the head). You will get soft waves and natural volume. If you have bangs, stylists recommend lifting them from the roots, then throwing it up and carefully putting on a helmet (while the bangs should be 100% dry – see point 1).
12. Do a head massage
If styling without volume is not your option, then do the following: after removing the hat, lower your head down, gently massage the hair at the roots for 30 seconds (with movements from the back of the head to the forehead). Such a simple massage will restore volume to the hair and eliminate hair creases that have appeared due to the helmet.
13. Weave braids
Winter is the time to do beautiful hairstyles with braids. They do not wrinkle under the helmet and look very elegant.
Wear a comforter to protect your hair while riding
Having chosen the most important part of motorcycle equipment – a helmet, it is worth thinking about the base that needs to be worn under it to protect your hair. We are talking about bandanas or comforters that cover almost all of your forehead and your hair on the back.
Motorcycle helmet comforters are also known as moto comforter, balaclava comforter, motorcycle comforter, helmet comforter, helmet bandana, etc. The need to purchase a comforter is more than obvious. Firstly, despite all the super-functions of motorcycle helmets, your long hair remain outside the helmet and need additional protection from wind, dust, moisture or insects.
Secondly, thanks to the liner, you get extra warmth in cool weather, as well as protection from moisture from the outside and from the inside during sweating. The materials used when sewing liners are endowed with special moisture-wicking and quick-drying properties.
Thirdly, it is much easier to restore the desired volume to your hair after removing the helmet in a comforter – just massage your hair and the results will please you.
Decide the material of the comforter basis the season you are riding in. For summers, suitable options of fabrics include cotton, lycra, polyester silk, polyester, polypropylene, and knitwear. Such materials are characterized by an increased ability to wick away moisture during perspiration. This is the most important function that a summer liner should have, apart from ventilation, in hot weather.
To find out if you have chosen a good product, ride in warm weather and remove the comforter – if your head and hair are practically dry, then you have chosen the right one. Note that the cotton jersey liner, in spite of its naturalness, will not work as well. It will absorb moisture, but will take much longer to dry.
In winters, you should give preference to comforters made of other materials: fleece or thermal fleece, polypropylene, or merino wool. Here the main function is to keep the head warm as well as to regulate the temperature inside the liner. Winter comforters should be worn only in extremely cold weather and at zero or sub-zero temperatures.