Waterproof Dirt Bike Boots
Reader Disclosure
Our editorial content is reader-supported. If you click on some of our links, we may earn a small commission.
Learn more here.
Dirt bike is a versatile machine – by simply riding it, you get a truly unique experience. Recently, I was asked if there were any dedicated waterproof dirt bike boots available that can be utilized on trails or a dirt track. Some of you even inquired if it would be practical to wear an adventure boot on the trails as they provide a high degree of water resistance.
So, in today's post, I will be answering these questions along with a few suggestions that will surely address all these concerns.
But before proceeding ahead, let me answer one of the most frequently asked questions:
Are There Any Waterproof Dirt Bike Boots Available?
It's highly unlikely that you will come across many completely waterproof options. This is because waterproof boots are not a necessity for motocross riding.
Secondly, in case a brand does try to incorporate a waterproof membrane into these MX boots, say for instance, a Drystar or Goretex liner, these boots would need additional reinforcement to protect this inner layer from the high mechanical stress experienced during off-road riding.
This is why manufacturers do not typically invest in creating completely waterproof dirt bike boots as it scales up the price of manufacturing.
So, unless the boot incorporates a waterproof membrane, it will never be completely waterproof. To date, there are only 1 or 2 models available that have incorporated a waterproof membrane into them.
Also, there is a difference between being waterproof and water-resistant. The fact that any specific dirt boot mentions water-resistant capabilities, does not mean it will be waterproof.
Now to answer the question – Alpinestars recently launched an Enduro boot that incorporates a Drystar membrane just to address this particular need of dirt bike riders.
And this boot is none other than the twin brother of the Tech 7 boot – a gold standard and my personal favorite, and an ideal dirt bike boot for trail riding.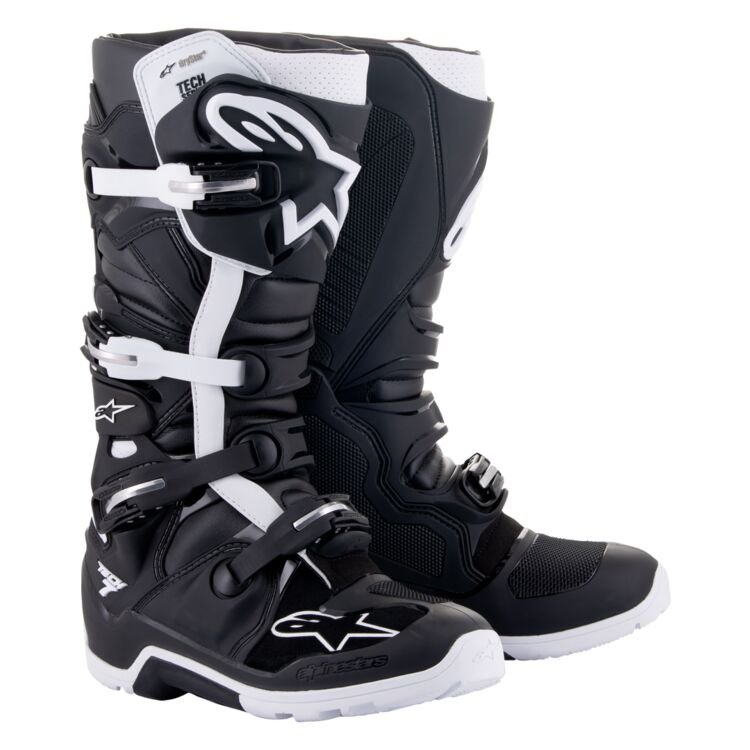 The Enduro version I am talking about is no different than the Tech 7, except for its waterproofing capabilities owing to the Drystar membrane.
Aside to this, what I love about these boots is the fitment: The wide toe box and lack of pinch points make them incredibly comfortable to wear, even for extended periods. If you have worn the Tech 7 boots before, you will know exactly what I'm talking about.
Equipped with biomechanical link technology, they don't take long to break in either, which is perfect for someone who wants to hit the road as soon as possible.
The construction of these boots is also very impressive. The combination of leather and microfiber makes them durable and lightweight. And the hard plastic and TPU design provide excellent protection, so you can ride with confidence be it on track or trails.
The self-aligning buckles are a great feature too. In fact, this buckle design is used on the Tech 10s as well, which is a premium variant from Alpinestars. So, they are easy to use, and you don't have to worry about struggling with them even with gloves on.
As for the top opening: The area around the calf is decent (not too generous though), but still large enough to accommodate knee guards. So, all these features incorporated in a waterproof boot make them a great option for dirt or trail riding.
How To Make Dirt Bike Boots Waterproof (Budget Alternate)?
Honestly, there is not much you can do to make your dirt bike boots completely waterproof. Anything you wear outside your boots to prevent water ingress will limit the functionality of your protective boots.
A rain cover, for instance, will prevent water from entering the boots but will limit the feel you get from the pegs. Plus, your sole won't be able to get hold of the ground due to this slippery cover.
But if you try to wear a waterproof liner inside your MX boots, first, it would be very difficult to physically seal off your boot, and second, the waterproof liner will trap perspiration and in turn make you more uncomfortable.
This said, you can still protect your feet from getting soaked – not by waterproofing your boots, but by protecting your feet in case water does enter the boots.
I recently purchased a pair of DexShell waterproof socks, which proved to be effective in this scenario. They are effective but not always breathable due to their water-repelling properties.
Another alternative you can try is SealSkinz, which is also an excellent waterproof sock that protects your feet from getting wet.
So, if you are thinking about waterproofing solutions – a waterproof pair of socks would be the most economical way to do it (you can click on the above links to buy from Amazon).
An important thing to note here is that any kind of waterproof socks will create a moist environment inside your boot. Wearing a thin silk sock underneath the waterproof socks will combat this issue and you will be able to enjoy the ride for a prolonged period.
Should I Switch From Motocross To Waterproof Adventure Boots?
Let me ask you one simple question – What's the purpose of wearing dirt bike boots?
Your legs serve as the primary suspension system while riding a dirt bike. And because this is such a challenging sport, there is a high likelihood of getting hit by something on the trails. So, it is of utmost importance to protect yourself from such hazards.
MX boots provide ankle support, offer lateral and torsional protection, and are shock resistant. While they take some getting used to and require a period of adaptation, they are essential for riding in rough terrain.
It is a common belief among many that stiff boots suffice for any dirt bike adventure if you are not an aggressive rider, and there's no need to invest in MX/Dirt bike boots.
This assumption might still be considered acceptable in case you are riding a motorcycle (sadly). But dirt bike boots have a unique purpose of shielding your lower leg and feet from a crash which is quite inevitable in this sport – want to prove me wrong? name one rider who has never crashed his bike.
So, to answer the question, adventure boots do offer waterproofing capabilities and they may look similar to motocross boots, but they are constructed differently and have different functions. While there are some overlaps in their characteristics with dirt bike boots, there are also stark differences.
Adventure boots are typically lighter in weight (around 3 pounds). In contrast, motocross boots tend to weigh around 4 pounds (with a few exceptions). In terms of height as well, adventure boots are shorter in comparison to MX boots (dirt bike boots can reach up to 15-16 inches).
As for stiffness, adventure boots are designed to provide more flexibility and usability, and incorporate primarily leather main construction, making them lighter and more flexible. On the other hand, motocross boots prioritize protection over flexibility and are made almost entirely of plastic, with little consideration for walking.
And while both types of boots offer protection, motocross boots are designed to withstand heavy abuse (aka crash protection). So, if you are riding a dirt bike, it's obvious you would be riding on rough terrain or dirt track, and in these situations, only a pair of dirt bike boots will protect your feet in case of a mishap.
So that's all there is to it; A budget alternative to make your feet waterproof and a solid option from Alpinestars that will protect any kind of water ingress inside the boot.
The budget option is kind of like a compromise to help you out in case you are not willing to spend half a grand just for waterproofing capabilities. But obviously, if you do have this kind of budget- nothing beats the Tech 7 Enduro Drystar in the waterproof MX boots category.
Extra Resource: Attention all first-time dirt bike boot buyers! Unlock the secrets to finding the perfect pair of boots with our comprehensive guide to picking the right dirt bike boots.