Reader Disclosure
Our editorial content is reader-supported. If you click on some of our links, we may earn a small commission.
Learn more here.
When it comes to must-have motorcycle gear, gloves are the second most important item after helmet. And yet, especially in the summer months, you will see a lots of bikers on the road wearing summer riding jackets and the darkest of all visors, but prefer to leave their hands unprotected. They also like to use the "just-for-the-day" excuse: a quick run to the gas station, or a short trip to buddy's house.
Truth be told, accidents seldom happen during a perfectly executed long distance motorcycle tour where you adhere to all the prerequisites. Most of the time, accidents happen when you try to put up with excuses like "just for the day". And no matter how cautious you are while riding without proper gear, surprises are a part of life.
We agree, some days are really hot, and your hand might literally soak in a pool of sweat inside the glove. But that doesn't mean that the most vulnerable part of the body should be left unprotected while riding. Because if anything happens to your hands, it really takes a very long time to recover.
In fact, no other part of the human body takes so long to heal. And there's probably no other part where the likelihood of complications and the resulting damage is more pronounced than the hand.
These thoughts prompted us to choose a glove category, that is very important and still ignored by many. Yes, we are talking about summer motorcycle gloves.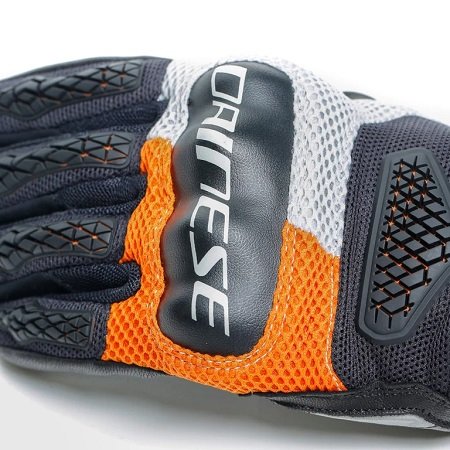 With a perforated fabric design that ensures better ventilation in and out of the glove, these summer gloves are perfect for hot weather, both in the city and on longer rides. They are designed by keeping in mind both safety and riding comfort of the rider by placing special leather inserts or rubber reinforcements around the most stressed areas.
So let us discuss some of these best motorcycle gloves that are designed for everyday use particularly for the summer season.
Best Motorcycle Gloves For Summer
Alpinestars SMX-2 Air Carbon V2
The Italian brand Alpinestars, has been delighting its customers with quality and precision for many years. Despite the fact that it essentially started out with motorcycle boots for a variety of riding styles, Alpinestars now has a variety of motorcycle gear at its disposal, including some of the best motorcycle gloves in the market.
Today, the company is amongst those offering premium motorcycle gloves & yet is constantly innovating its line of products to offer even more efficient models.
These summer gloves are designed to ensure maximum comfort while riding. They comply with all current standards and ensure safety during use. And due to its high breathability, they allow maximum comfort during hot seasons by keeping your hands dry and ventilated.
The fact that this pair of motorcycle gloves comes in 5 different colors is a definite plus. Riders can wear the exact color pattern they feel will go with their attire.  Moreover, these gloves have a very contemporary design. And as an added bonus, the gloves are designed to facilitate touchscreen operation on your mobile. In addition, the safety of the rider is ensured by the protective elements included in these motorcycle gloves.
With its SMX-2 Air Carbon V2, Alpinestars has combined style, comfort, and safety. These are the perfect summer gloves for riding safely in both urban and suburban areas.
Price: $89
Features:
Touchscreen compatible fingertip (index finger only)
Thick EVA foam inserts
Lightweight and ventilated gloves
Ideal for hot weather
3D mesh around thumb & fingers
Pre-curved fingers
VELCRO® closure & TPR closure
Founded in 1968, Dainese is a global leader in the world of protective motorcycle gear and apparel. The brand is especially known for its high-performance products. In addition, it also focuses on the aesthetics and design of its riding gear, particularly its motorcycle gloves. For the latter, the Italian company has a range of stylish, protective, and comfortable models at its disposal.
Speaking of which, the sporty look of MIG C2 makes these gloves very appealing, especially for fashion-conscious bikers. These motorcycle gloves are ideal for riding on a hot sunny day when the only thing a rider needs is a comfortable and dry grip. This is easily accomplished here, thanks to the MIG C2's blend of mesh inserts and high-quality cowhide leather.
Besides, the MIG C2 is a reflection of the know-how and engineering of Dainese. These gloves are perfect for riding safely and comfortably in hot weather without compromising on style.
Furthermore, this product offers a high level of resistance against abrasions. And when it comes to fit, they feature a Velcro tab on the wrist with an adjustable strap. Plus, these gloves are incredibly flexible because of the pre-shaped curves around the fingers.
From a safety point of view, there is nothing to worry about here. In addition to having protective guards, it is CE EN13594 level 1 approved and therefore has a high level of protection.
Price: $99
Features:
CE level 1 certified
Made from cowhide leather
Ideal for hot weather
Perforated material with mesh inserts
Velcro® closures
Reinforced around the palms for extra abrasion resistance
Are you looking for a retro styled motorcycle glove that can accompany your summer motorcycle jeans? Then these Dainese Blackjack gloves might be right up your alley. The first thing that differentiates them is their design using high quality goatskin leather that effectively resists wear and tear. As a matter of fact, they look even better as they age.
We chose this model since it can meet the requirements in terms of protection, given that all the vulnerable spots on the hand are protected by very subtle reinforcements. Moreover, the seams are also reinforced to ensure a good resistance against tearing following an impact.
Dainese is also committed to user comfort, which is why these gloves feature perforated fingertips. The elastic straps allow for greater flexibility of movement and an adjustable Velcro around the cuff for proper closure.
To sum up; Dainese's Blackjack represents the ideal choice for all the riders out there who passionately or professionally ride motorcycles. Made out of soft leather, the gloves are designed by giving great attention to details and ensuring a safe and comfortable grip.
Also see: Leather motorcycle gloves
Ideal for the summer season, these unisex motorcycle gloves have elastic inserts that allow you to adjust the Velcro closure located on the wrist, ensuring an optimal fit and particularly comfortable feel.
Both knuckles and upper part of the gloves are further protected by padding that makes this glove highly resistant to asphalt abrasions. Blackjacks are priced in a mid-range, and, based on our personal experience, they offer excellent value for money.
Price: $95
Features:
Ideal for hot sunny days
Made from soft goatskin leather
Stylish vintage look yet economically priced
Pre-curved fingers
Elastic inserts
Suitable for both men & women
Founded in 1963 by Sante Mazzarolo, a leather goods manufacturer from Asolo (Northern Italy), the company first created motocross boots, a discipline that was just emerging at the time. Since then, the brand has grown and expanded to include everything from gloves and helmets to jackets and much more. The quality of these products is reflected in their worldwide reputation.
Speaking of SMX-1 Air V2 gloves, you can expect the highest level of expertise from Alpinestars. These gloves are a combination of both engineering and style.
These SMX-1 AIR V2 gloves are amongst the finest summer motorcycle gloves you can find in the market. The mesh fabric provides excellent ventilation for the user along with an enhanced comfort. The company uses high-quality cowhide leather to ensure that the gloves are highly durable and resistant to abrasion and wear.
In terms of safety, these motorcycle gloves are CE EN 13594-2015 level 1 approved. The carbon fiber used by Alpinestars is resistant against impact and abrasion to protect the fingers. Moreover, the EVA foam padding around the fingers absorbs energy in the event of an impact.
The SMX-1 Air V2 is also compatible with touch screen on both the index finger and the thumb in order to access smartphones or GPS devices. So, you no longer need to remove your gloves to answer a text message. However, it is important to choose one size bigger for this particular model.
Price: $59
Features:
CE-certified
Ideal for hot weather riding
Touch screen compatible finger tips (thumb & index finger)
Accordion stretch around fingers
Perforated leather with air mesh
Synthetic suede at palm
For riders who are looking for a short cuff, sport-oriented summer glove that can be utilized in a variety of riding disciplines, the EXO SGS MK II from Scorpion can be a great option.
Coming in around at $85 price point, you get a combination of goat leather, carbon fiber knuckle, and thermoplastic polyurethane which ensures the riders have an added advantage in case of an impact.
Speaking about the features; a single Velcro closure ensures quick in and out from your gloves. Additionally, you get a light perforation at the back of your wrist with added foam padding to give an extra support to the joint. And, the carbon fiber knuckle which is surrounded with TPU, is double-stitched for extra durability.
Underneath the knuckles you also get foam padding for an added impact protection which also ensures that movement of your hands around the brake and gear lever is comfortable. The first two fingers are provided with an accordion stretch in case you are the type of rider who likes to use two fingers while braking or shifting.
Coming to the inside of the glove, it is padded with an additional protective layer on the inside of the hand that actually provides you with better grip of controls and restricts pre-mature wearing.
The index finger has been provided with touch screen tip which allows you to use your smart phone or GPS device without removing them. The outer side of your smallest finger has been provided with extra padding since these are generally impact prone areas. And lastly, to complete the safety essentials, a Knox SPS palm slider ensures a complete protection of your palm.
Price: $89
Features:
VELCRO® strap closures
TPU knuckle protectors reinforced with carbon fiber
Pre-curve around the fingers
Padded pisiform protection
Touch screen compatible (only index finger)
Knox SPS Scaphoid Protection System
Cayenne 2 incorporates drum-dyed goatskin leather that is both water resistant as well as dust repellent with an extremely durable finish. Plus, they have knuckle protectors and double stitched seams that eliminate pressure points on the hand and wrist.
These gloves feature a 3D pre-formed two-component TPU honeycomb protector covered by a high-impact aluminum guard. This light-weight construction increases the level of protection significantly without contributing to the overall weight.
The main use of these gloves is for adventure travel and touring, where climate and landscape changes often, with major part of the weather being hot and humid.
These state-of-the-art ultra-technological Cayenne 2 gloves are completely made from goatskin leather (98%) making them extremely comfortable and abrasion resistant. These sophisticated summer gloves offer ultimate protection owing to the rigid TPU protectors and two-component ventilated protectors on the knuckles and at the back.
And in order to ensure breathability, these gloves have perforations and vents on fingers, thumb, palm, and cuff.
In short; Cayenne 2 Gloves from REV'IT are very comfortable, plush, and offer good mobility. They ensure decent fitting with appropriate finger length along with fairly easy put-on and take-off mechanism. Moreover, the cuff length is practical with a very good locking mechanism around the wrist. And finally, the safety features are satisfactory thanks to excellent craftsmanship and engineering.
Price: $159
Features:
Premium motorcycle gloves
Outer shell is 98% Leather, 2% Polyester
Added ventilation around fingers, thumb, palm and cuff
TPU layering for added abrasion resistance
Dual comp protectors at the knuckle
Ideal for adventure touring
Perfect for hot & humid condition
Every now and then you will hear about some emerging brands in the motorcycle apparel and safety gear industry that have become quite famous than their legendary competitors. Klim, is one such motorcycle gear brand. Originally from Rigby in the American state of Idaho, Klim not only manufactures motorcycle gloves but pretty much everything you need when it comes to riding apparel.
Tailored to be simplistic in terms of design, Klim Induction Gloves are precisely made for two purposes: Safety & Comfort.
Both thumb and forefinger on both hands are touch screen compatible allowing you to use your smart phone on the go. For this, they have specially integrated a circuit that conducts the signals from the finger to the screen.
From the top, this glove looks the same for all fingers; entirely made of goat leather with perforations and protective padding. But, in between them, you will find a bit of thin stretch fabric for ventilation.
At the left index finger is a visor wiper, which is a rubber strip in case you need to clear the fog or drops of water from your helmet visor. And at the back of the glove, you will find its main highlight: Matte carbon fiber hard knuckle protector made from Poron XRD.
Price: $139
Features:
Perforated goat leather and mesh fabric for extra ventilation
3M Scotchlite reflective material
YKK zipper
Touch screen compatible
Visor wiper on index finger
Carbon fiber knuckle protector
Icon Twenty-Niner CE Gloves
While the Icon Twenty-Niner summer motorcycle gloves are a good pair, they are definitely one of the economical alternatives available in the market. They have the advantage of being extremely comfortable and extra airy to ensure minimum sweating of your hands. The Twenty-Niner features a pleasant mesh fabric and goat leather, and, as for the looks, they are quite contemporary but only available in black color.
As for venting, they have finger inserts with vents in between them. Basically, this is a lightweight pair that will do the job of protection while keeping a check on perspiration. The Icon Twenty-Niner is a glove that has been around for quite a while now. The recent version is now CE rated, but when it first came out in the market it was called the Twenty Niner because it was priced for just 29 bucks! However, the upgraded version with few changes costs few bucks more, since you get a more protective version than the previous Twenty Niner.
One thing we would recommend, if you would like to get a little extra knuckle protection (since as of now you just have a little bit of foam padding around the knuckle) preferably something like a D3O®, then take a look at the Icon Anthem 2 CE Gloves we have discussed below, which cost only $5 more.
To sum up, if you ride a motorcycle that is limited to 125cc, we would recommend this pair of summer gloves. They are ideal for anyone with a low budget, and provide adequate safety as well as comfort.
Price: $35
Features:
Comfortable mesh fabric & goat leather
CE approved
Very economically priced
Light in weight and ideal for summers
Pre-curved finger & palm design
High ventilation flow
Most of you would be familiar with the previous generation of Fly 2 gloves which have been around since 2016. The Fly 2 were incredibly popular and were amongst the top selling motorcycle gloves in America. With the launch of Fly 3, REV'IT has done some minor upgrades in their design and engineering to make them even more comfortable. These upgraded perforated summer gloves allow a lot of air to pass through them, thereby making them an ideal option in hot weather conditions.
Another tweak they have done in new version is the accordion stretch around the thumbs which allows you to control and manipulate the buttons on the handlebar. Additionally, they have stretched their palm area to accommodate more room for your hand and thereby minimizing any possibility of perspiration.
As a matter of fact, when a product reaches its third generation, you already know it stands out for something. That is definitely the case with our Fly 3 gloves, whose predecessors were also known to be legendary in terms of performance. This third generation has been revised to make sure the Fly 3 keeps up with future demands.
Uncomplicated in style, these regular fit gloves incorporate a rigid knuckle protector and are made of fully ventilated, abrasion-resistant leather to provide the protection and comfort needed by those who have to ride in the heat.
Featuring an impressive fit, the Fly 3 gloves have been optimized for improved freedom of movement and even better handling comfort, making them a summer must-have for riders of all levels.
Price: $109
Features:
Hard-shell finger knuckles made from TPU
Blended cowhide and goatskin leather for extra comfort
Fully perforated material for maximum ventilation
Casual appearance makes it ideal for stylish bikers
Cut, tear, and abrasion resistant material
Perfect for summer season
Variants available for both men & women
In case you are familiar with the untamed and offbeat world of Icon, you will know the Anthem series of motorcycle gloves for their wicked and crazy looks. In line to their somewhat unique color combinations and crazy product range, these gloves hold a little distinction. Anthem 2 are the newest iteration of summer motorcycle gloves which were re-designed to make their previous version of Anthem gloves much better.
The Anthem 2 has been reinforced over its previous version. The D3O® around the knuckles is now much more comfortable utilizing an articulated position compared to the flat D3O® that was on the older version. You also get a Velcro closure, whereas the old Anthem was a slide-on glove. Also, you now have a much tighter fit when this is on your hand.
Made from Battlehide™ goatskin leather, these pair of gloves are perfect against any kind of abrasion or impact in case of a crash. Furthermore, these light weight and comfortable gloves are your perfect partner for summer season, ensuring safety as well as comfort at all times.
You also get a touch screen enabled thumb & index finger that allows you to use your smart phone while on the go. And the best part, it is CE approved!
Price: $40
Features:
CE approved
D3O® knuckle protector
Touch screen enabled (thumb & index finger)
Light in weight and very comfortable
Best in its class (price point wise)
Affordable, protective, and ventilated summer gloves
A summer riding glove is required to bridge the gap between comfort, ventilation, and protection. As blending them together is practically impossible in one single glove, compromises have to be made by the manufacturers. For instance, if a glove scores high in protection, it loses a bit of comfort. Likewise, if a glove is extremely comfortable due to soft padding, has all the safety features like the D30 armor, then it might lose some of its ventilating properties.
Suggested reading: How to wash your motorcycle gloves
We have tried to list out all the ideal summer motorcycle gloves that stood at par when it comes to safety, comfortability, and breathability. Individual preferences and their level of comfort may vary; thus, it is important to refer to the size chart of each brand before ordering one. Good luck!