What's The Difference Between MX And Enduro Boots?
Reader Disclosure
Our editorial content is reader-supported. If you click on some of our links, we may earn a small commission.
Learn more here.
In this post, we will be exploring the differences between motocross boots and enduro boots. Although they both are not in direct competition with each other, it is important to understand the features that distinguish them from one another. So, I will be highlighting these differences to provide you with a comprehensive understanding of both types of boots.
Let's get started!
Motocross Boots: What Are They?
How do motocross riders keep their feet and ankles safe from the perils of off-road riding? What specialized gear do they wear to protect themselves against hard impacts, twisted ankles, and other hazards that accompany a rugged terrain? The answer: motocross boots! These tough, durable boots are the rider's best friend out on the trail, offering a range of features and benefits that keep them safe, comfortable, and ready for anything.
So, what exactly are these boots all about?
Motocross boots are the armored tanks of the footwear world, designed to protect the rider's feet and lower legs against the unforgiving terrain of off-road riding. These boots are not your average footwear; they are built to withstand impacts, jumps, and all the debris that comes while riding a dirt bike.
Picture this: you are out on the trail, revving your engine, ready to take on anything that comes your way, but suddenly, you hit a rocky patch, and your bike jolts to the side. Without these trusty motocross boots by your side, this jolt can cause grave injuries around your feet and ankles. But with these bad boys on, you will retain your balance and keep riding like a pro.
One of the features of motocross boots is their stiff sole (we will be discussing more on this shortly), designed to provide stability and support when you need it most. They come with reinforced toes that are designed to take a lot of abuse – so you can focus on your ride instead of your feet.
Plus, they come with ankle protection: Anyone who has ever experienced a nasty twist or sprain will know the importance of this feature!
To know more about the specifications, take a look at some of the best dirt bike boots for trail riding and what makes them apt for this extreme sport.
How Do Motocross Boots Differ From Enduro Boots?
When it comes to motocross and enduro boots, many assume that these are interchangeable terms, given their appearances. Agreed these two boots share many similarities, but it's the 10% of construction that makes all the difference.
So, knowing where you will be using these boots is key, especially since motocross riders tend to be pretty brutal on their feet with all the jumping and exertion. This can cause their feet to slip off the pegs if they are not careful.
But what sets MX and enduro boots apart?
For starters, motocross boots usually have a smooth sole, while enduro boots feature a highly-profiled sole. This is because motocross riders need more protection, while enduro riders prioritize secure footing in various terrains.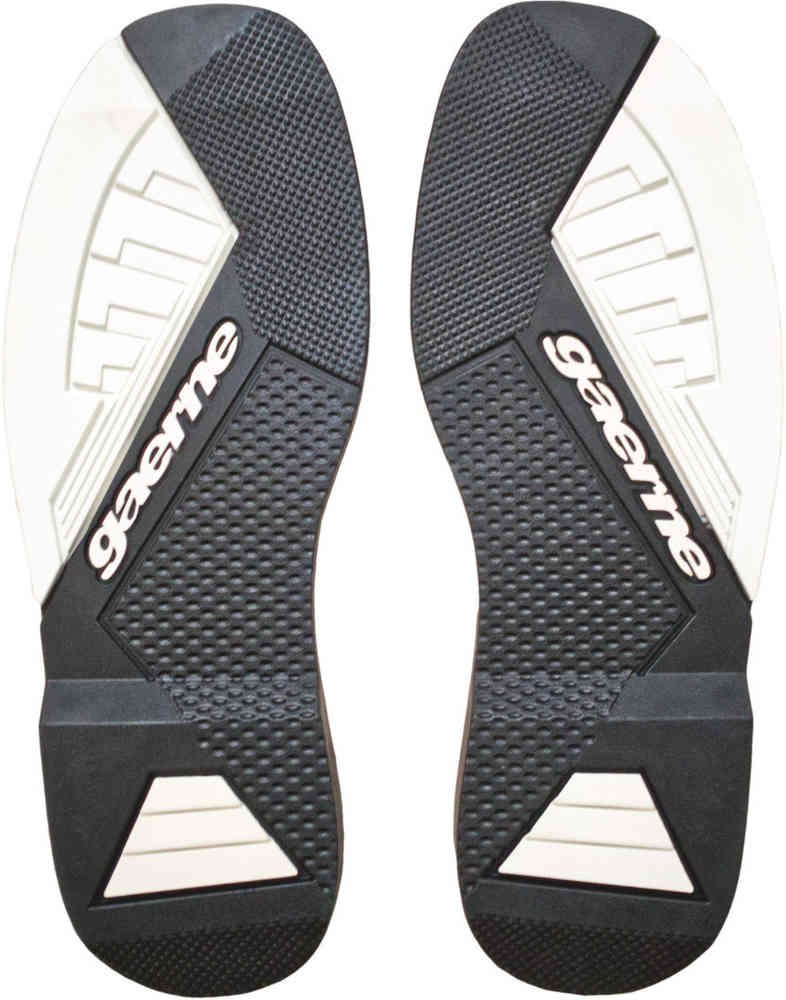 The second difference is, of course, protection. For a motocross rider, where the frequency of falls is much higher, more effort is put into producing a stable boot that can withstand impact.
Enduro boots strike a balance between protection and mobility by using stretch inserts in some areas. This makes them more flexible and easier to walk in, whereas motocross boots are designed purely for extreme adventure and can feel as cumbersome as snowboard boots if you try to walk in them.
Lastly, the visible leather components of a motocross boot make up a relatively small proportion of the design, with plastic dominating instead. Enduro boots used to feature leather construction, lately however, most brands have improvised with lightweight microfiber material that offers greater flexibility and resistance to water and abrasion compared to natural leather. Which is why, enduro boots break in really quickly and are pretty comfortable to wear than pure MX boots right from day one.
MX vs Enduro Boot: Which Is Better?
Motocross and enduro boots have distinct features that cater to the specific demands of each sport. When soaring through the air on a motocross track, riders need boots that offer robust protection against the bone-jarring impacts of gravity-defying jumps. An MX boot would be better in such scenarios as they feature a stiff outer layer.
On the other hand, enduro riders face a different challenge – traversing tricky terrain that demands superior traction. Enduro boots are at an advantage here as they come equipped with a rugged sole pattern that enhances grip, and are also more flexible. So, they allow riders to dig into the ground and gain traction on even the most slippery surfaces.
Can I Wear Motocross Boots While Enduro Riding?
In case you are an enduro rider, it is not necessary to limit yourself just to enduro-specific boots. Motocross boots are a popular choice among enduro riders for their superior protection and support. With reinforced materials around the feet, ankles, and shins, these boots are built to withstand off-road challenges. Plus, their rigid soles and dependable traction make them ideal for navigating tricky terrain.
However, due to their immense protective features and hard construction, motocross boots might not be the most comfortable option. They can be heavier and less breathable than other types of boots made for enduro riding, which may not be ideal for longer journeys. So, the choice between these two boots comes down to what feels right for you as per your riding style.
Is It Okay To Wear Enduro Boots For Motocross Riding?
Several situations necessitate a rider to opt for enduro boots over MX boots. For instance, if you require a waterproof dirt bike boot, you can switch to enduros with a waterproof membrane. Or, if you do a lot of walking around while you are out riding, an enduro boot would be a better option.
Agreed enduro boots do not have the same level of stiffness and ankle protection as motocross boots, but they are still suitable for motocross riding and provide a good level of protection for your feet and ankles.
Also, enduro boots are typically more flexible and comfortable than motocross boots, which can make them a better choice for riders who prefer a less restrictive boot. And just like MX boots, they have excellent grip and traction, which can be important for someone who needs to maintain a good grip while riding.
In short, if you plan on doing hardcore track riding, go for MX boots. But if you need some waterproofing capabilities or something easy to walk around while out on the trails, then Enduro boots will be more appropriate.
Bottom Line: Choosing Between MX & Enduro Boot
When it comes to off-road riding, you can't just wear any generic boots. You need a pair that's up to the challenge of rough terrain and unpredictable conditions. That's where MX and Enduro boots come in.
MX boots are the classic choice, with a sleek design that puts safety above all else
On the other hand, the Enduro boot features a rugged sole with aggressive treads that provide better traction when navigating challenging terrains such as rocky paths or muddy trails. So, if you are a rider who frequently rides through slopes or hills, you might want to opt for enduros. However, this kind of boot may lack a bit of protection especially if you like to fly through the air on the dirt track.
But yes, like I said before, specifications do differ from brand to brand. And both these types of boots are available in various price ranges and qualities. So, you can select the one that fits your budget, safety standards, and your specific requirements.
My advice would be to stick to MX boots no matter your riding style. There is nothing stronger than these boots and they can handle anything you throw at them. Remember: Your boots are your only contact with the ground, and having the right ones can make all the difference between a thrilling adventure and a devastating one!
If you are looking for recommendations, here are my top picks for high-quality motocross boots suitable for beginner adults. Or check out our expert advice, insider tips, and detailed insights to make a well-informed purchase by going through this comprehensive dirt bike boots guide for beginners.
With this, we have come to an end. I hope I was able to inform and entertain you along the way, and perhaps even inspire you to hit the trails yourself. Keep the rubber side down and the throttle pinned, and always remember to ride safely. Until next time, this is Mohit signing off. Goodbye!
Bonus Content: Ready to level up your footwear knowledge? It's time to take the next step: Dive into this intriguing article to explore the fascinating differences between adventure and MX boots.